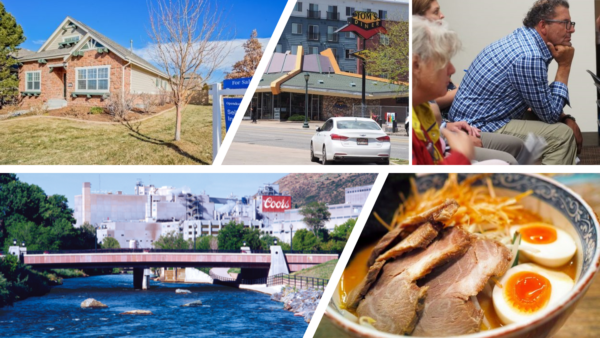 Twelve months can't go by without something big happening, and that's where we come in.
Here's a look at some of Denver's biggest business news sagas of the year:
WeWork's stumbles
WeWork signed lease after lease in 2018, and 2019 started the same way, with the coworking firm inking deals for space in Civic Center Plaza and the building that is now called Junction 23 at Denargo Market.
Then, over the summer, WeWork launched an attempt to go public — and it backfired, big time. The company ended up laying off thousands of employees and being bailed out by previous investor Softbank at a drastically reduced valuation.
What has that meant locally?
One Denver developer told BusinessDen in October that disclosures in the company's IPO prospectus prompted him to tear up a pending lease. And BusinessDen was first to report earlier this month that WeWork had backed out of a signed lease with the owner of the office building at 1660 Lincoln St.
Still, WeWork opened four more locations in the Mile High City between November and December, bringing its total to nine.
The city's Airbnb crackdown
Denver got serious about its "primary residence" requirement for short-term rentals in 2019.
In March, for the first, the city revoked a homeowner's short-term rental license on the grounds that the home they were renting out wasn't their primary residence.
Around the same time, the city began asking homeowners suspected of violating the regulation to sign a notarized affidavit claiming they weren't. This resulted in a felony charge being filed against four people in June and July, for allegedly falsely signing the document.
Three of those cases are still winding their way through the courts. But in December, one was resolved in the defendant's favor.
Molson Coors bails
Yes, the iconic brewery is in Golden, and it's not going anywhere.
Regardless, it was still a major surprise when, in October, Molson Coors announced it would move its headquarters from Denver to Chicago.
"The main reason was it's got world-class marketing talent," a company spokesman said of Chicago. "And in our industry, marketing is so important."
The food halls haven't stopped
These already were a full-blown trend by the time January rolled around. In 2019, we saw the opening of Broadway Market in Denver's Golden Triangle, Edgewater Public Market in that city and Tributary food hall in Golden. Others have been announced but have yet to open.
The fight over Tom's Diner
In May, BusinessDen broke the news that the owner of Tom's Diner at 601 E. Colfax Ave. wanted to sell the building to a developer who planned to demolish it.
What followed was a crash course in Denver's landmark ordinance when five Denver residents requested the building receive a designation that would prevent demolition. Tom Messina, in turn, said he felt "kicked in the gut," and that the effort was jeopardizing his planned retirement.
This one got resolved just in time for the holidays. With the help of Historic Denver, a new buyer was found for the property. Cleveland-based GBX Group plans to keep the building.
Here come the iBuyers
Opendoor and Zillow Offers are the largest of the so-called "iBuyers," algorithm-driven companies that buy homes and re-list them for sale within days after minor improvements.

While both companies began operating in Denver late last year, it was 2019 when we really got to see what they were up to.

Opendoor bought 201 homes locally in its first six months, and sold numerous ones for less than it paid, a BusinessDen review found. Zillow Offers, meanwhile, bought 139 homes in its first six months.

RedfinNow, a division of real estate brokerage website Redfin, also entered the iBuying scene locally earlier this year.

39307