There are now two sides to the future of Tom's Diner.
On one side, there's owner Tom Messina — yes, the name has been literal — and Greenwood Village-based Alberta Development. Messina wants to sell his diner at 601 E. Colfax Ave. to Alberta, which wants to demolish it and build an eight-story residential building on the half-acre lot.
On the other side, there are five Denver residents, who on Friday requested the city designate the retro-looking building a landmark, against Messina's wishes. If approved, the designation would make demolition very difficult.
"We appreciate that we're not making this easy on Tom," Jessica Caouette, one of those five residents, told BusinessDen Friday. "But we want to slow down the process and get this building the recognition it deserves."
Friday was the last day community members could request the landmark designation, following Messina's May request that the city dub the building, which was listed for $4.8 million, as "non-historic."
In addition to Caouette — who owns Tandem Bar in Uptown — the landmark designation was requested by Sam Dorrance, Kristin Morales, Kaye Taavialma and Jonel Beach.
Caouette said she was surprised to hear last month that the diner could be demolished, because "we thought that this was a protected building." Caouette grew up in Denver, and the diner has been "a place that we knew we could be ourselves."
"We also really love the architectural style, with the '60s diner look … it's a beautiful building," she said.
Caouette said she reached out to local preservation nonprofit Historic Denver to learn more about the landmark designation process, and that organization staff pledged to support her and others as they moved forward with the application.
The diner now known as Tom's was built in 1967, according to the listing for sale. It was initially part of Denver's White Spot diner chain, and is an example of Googie architecture. According to a February Denver Post story, Messina began leasing the space in 1999. Records show he bought the property in March 2004 for $800,000.
Caouette said she and her co-applicants haven't spoken directly with Messina or Alberta Development. However, Historic Denver has, and Executive Director Annie Levinsky said the organization discussed "ideas on how the building could be incorporated into the development, and whether there are alternatives to demolition."
"We'd hoped to continue those conversations outside the city process, which sets a specific and compressed timeline," she said in an email. "However, with so little time we weren't able to do that, and without an alternative several community members have decided to go forward and file the designation application so that the conversation can continue."
Alberta Development also did not respond to a request for comment, and Messina did not respond to a message relayed through the broker listing his property.
The city charges $875 for a landmark application (it's less if the property owner is requesting the designation). Caouette and her partners raised more than that on GoFundMe when they publicized their effort.
The landmark application now will be received by the city's Landmark Preservation Commission. If the commission agrees that the building is worthy of the status, it will pass the request on to City Council, which would have the final say.
Caouette said that she'd love to see Alberta or another party buy the property from Messina, but preserve the diner and only build on the parking lot to the north of it. Ideally, Messina would get the amount that Alberta is currently offering.
"Tom deserves a fat payout," she said, adding, "We do understand that what we're asking is idealistic."
Caouette said she isn't really looking forward to a battle in front of council. She hopes that Messina and the developer agree with her vision by the time it gets to that stage.
That said, she's serious about the application.
"The landmark designation saves the building," Caouette said. "And that's what we want to do."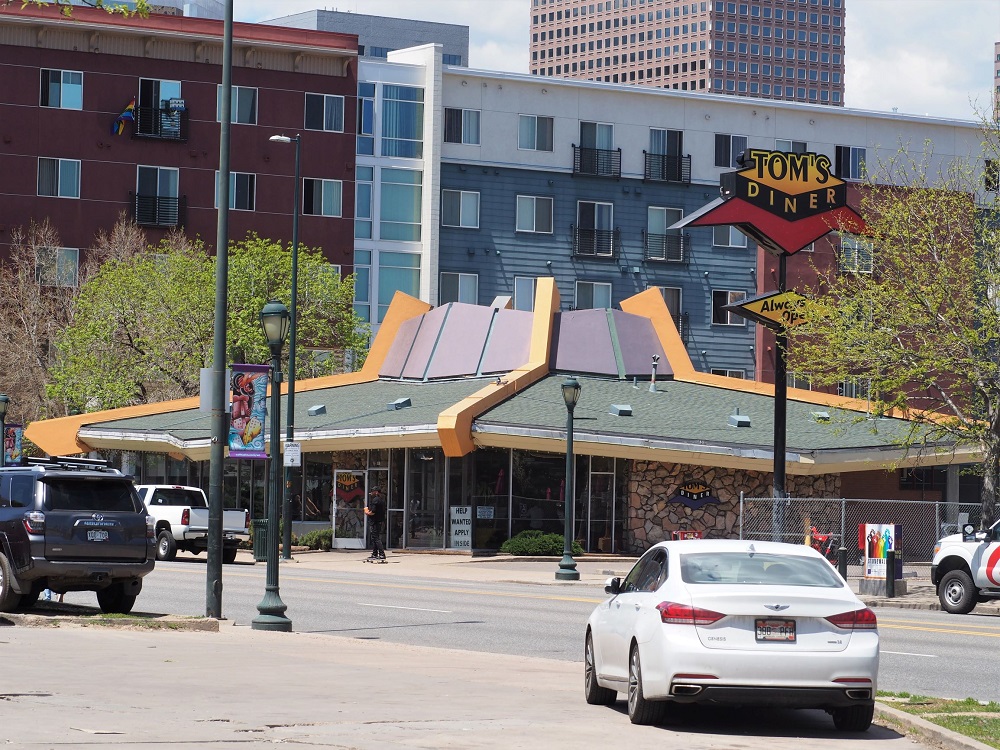 35573