Get your orders in at Tom's Diner.
The 24-hour eatery at 601 E. Colfax Ave., a few blocks east of the Capitol, hit the market last year — asking price $4.8 million — and recent events make redevelopment appear likely.
City records show that diner owner and namesake Tom Messina — who owns the real estate along with the restaurant — this month applied for non-historic status, which would make it easier to demolish the building within five years.
Who would want to demolish Tom's Diner? That would appear to be Greenwood Village-based Alberta Development Partners, which in March submitted preliminary development plans known as a "project concept" to the city for an eight-story apartment building at the site.
Alberta primarily develops retail and residential projects. Its local projects include Promenade at Castle Rock and Southlands in Aurora, according to the company's website.
Alberta did not respond to a request for comment last week. Messina did not respond to a message left Friday with the diner's general manager. Bryan Sperry of Sperry Properties, who also did not respond to a request for comment, is marketing the property.
As of Monday, in response to the request for non-historic status, city staff had not finalized whether the diner building has the potential for landmark designation. That would kick off a process in which members of the public could apply for it to be designated as such against the owner's wishes.
(If that process sounds familiar, the owners of the Bonnie Brae Tavern recently applied for, and received, non-historic status for the building that restaurant occupies.)
The diner now known as Tom's was built in 1967, according to the listing for sale. It was initially part of Denver's White Spot diner chain, and is an example of Googie architecture. According to a February Denver Post story, Messina began leasing the space in 1999. He bought the property in March 2004 for $800,000, according to records.
Messina told The Denver Post in February that, "It would make me happy to see someone come in and keep the ball rolling and enjoy a busy and successful restaurant" and the listing states that the $4.8 million price tag includes the business along with the real estate. But the listing also describes the property as a redevelopment opportunity, and touts its "attractive" zoning that allows up to eight stories.
Tom's Diner isn't the only 24-hour Denver eatery to recently make news because of its real estate.
Last July, the owner of Denver Diner — located on the other side of the Capitol, at Colfax and Speer — sold that building on a 0.37-acre lot to a developer for $3.6 million. The diner remains open, however, and no redevelopment plans had been submitted to the city as of last week.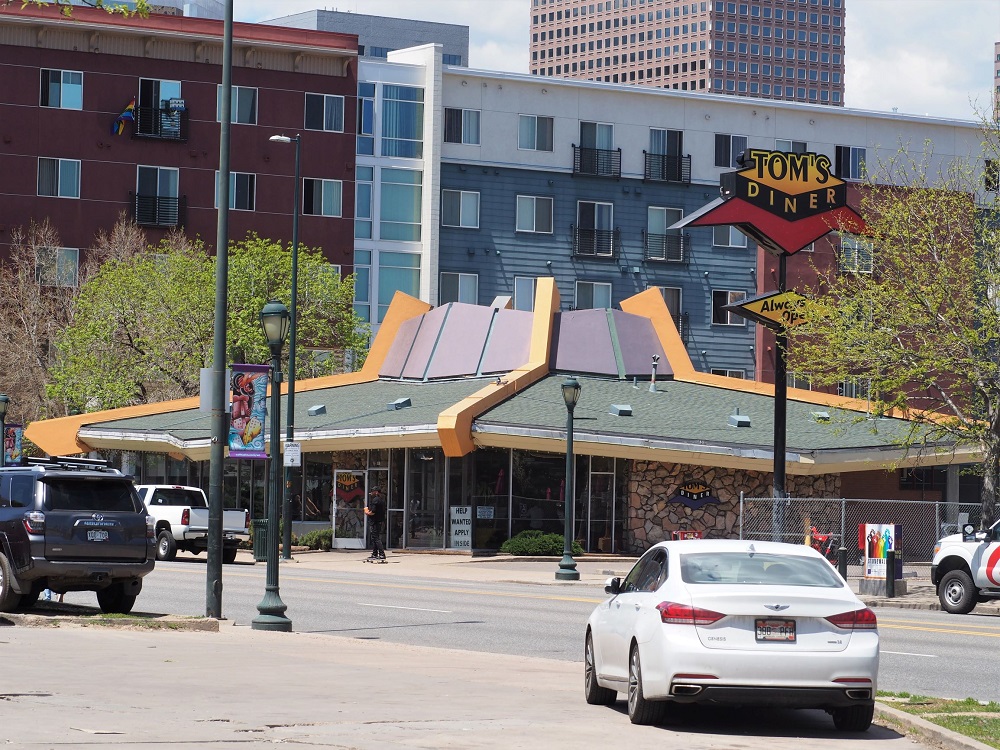 34651