The former Colorado Heights University campus in southwest Denver is again under contract – and this time a local developer is taking a crack.
Glendale-based Westside Investment Partners said it reached a deal to buy the 75-acre campus at 3001 S. Federal Blvd.
Principal Andy Klein said his company went under contract in early May and hopes to close by late July.
Klein said the firm plans to create a master plan for the site that includes commercial and residential elements, adding that Westside will then sell some parcels to other developers.
"The development that happens will be dense, which will allow us to keep some green space," he said. "Right now, we're 100 percent sure that we're going to preserve the main administration building."
That five-story administration building, which dates to the late 19th century, sits atop a hill that slopes upward from Federal Boulevard.
The property is currently owned by Japan-based Teikyo University Group, which purchased the campus in 1989 for $7 million, according to property records. Teikyo operated Colorado Heights University until it closed last year.
Two other entities have taken a run at the campus. Oakland-based Catellus Development Corp. was under contract but that deal fell apart earlier this year.
Before that, the university explored other options before deciding to close.
In September 2015, CHU and Metropolitan State University of Denver announced they had signed a letter of intent for MSU-Denver to take over and renovate a portion of the campus, but MSU backed out of the deal in March 2016, saying the cost of renovating the campus was too high.
In 2017, Denver Public Schools purchased a 6-acre portion of the CHU campus that it had been leasing since 2012 for the Denver School of Science and Technology: College View.
Westside is currently developing High Point, a mixed-use project on more than 1,000 acres near Denver International Airport. The company also is building Victory Ridge, a 155-acre mixed-use parcel near Colorado Springs that will be home to Colorado's first In-N-Out Burger. Westside's holdings also include Elevate, the 20-story building at 4100 E. Mississippi Ave. in Glendale.
Denver City Councilman Kevin Flynn, who represents that part of town, said in a statement he's encouraged to see Westside move ahead on the deal. "They're local and they know the site," he said. "So I'm looking forward to introducing them to my community stakeholders and neighborhoods."
Klein said Westside did not submit an offer for the CHU campus in the initial round last year.
"We were in the middle of buying High Point, and we didn't have enough manpower to do both," he said.
CBRE brokers Marty Roth and Eric Roth represent the seller. Klein said Marty Roth reached out to Westside in April after the Catellus deal fell through to see if the firm was interested. Westside had worked with him before.
Additionally, Klein said, the same law firm that represented the seller of the High Point property is representing Teikyo and Colorado Heights. The firm, he said, was able to vouch that Westside was easy to work with in the High Point deal.
"That's why sellers choose us," he said. "We move quickly."
Klein said the property is zoned as a campus, which allows for high-density residential and limited commercial use. He said Westside plans to ask the city to rezone the property.
He said the residential component will include apartment buildings, but "it'll be high-density single-family housing on a good portion of the property." Height restrictions will keep the landmark administration building as the tallest structure.
Westside recently brought on Mark Witkiewicz, formerly of McWhinney, as a partner to work on the plan for the site. Klein said Witkiewicz served as a project manager on the Dairy Block development in LoDo and the Art Hotel in Golden Triangle.
"He is great at placemaking," Klein said.
The campus' educational roots date to the 1890s, when the site was home to girls school Loretto Heights Academy, run by the Catholic religious order Sisters of Loretto. Elementary and secondary programs were phased out in the 1940s, and the school became known as Loretto Heights College.
That school closed in 1988 when Teikyo purchased the property. CHU cited declining enrollment and a U.S. Department of Education decision to deny accrediting authority to the entity that had been accrediting CHU programs as the reasons behind its 2017 closure.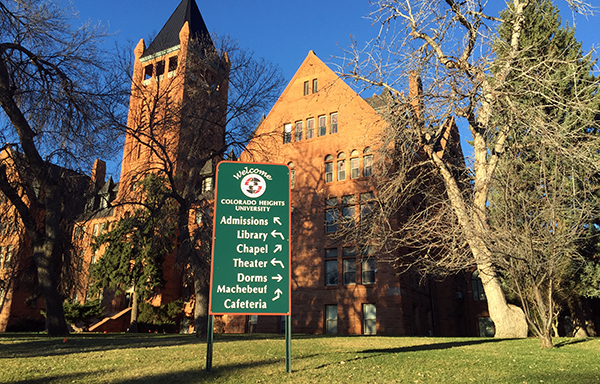 26792