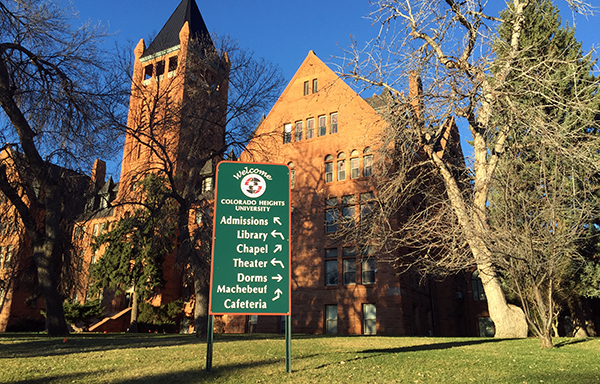 Metropolitan State University of Denver is backing out of a plan to take over and renovate 18 acres of the aging Colorado Heights University campus in southwest Denver, saying the cost is too high.
Last September, MSU-Denver and Colorado Heights, which is part of Japan-based Teikyo University Group, announced they had signed a letter of intent in which Colorado Heights would hand over a section of its Loretto Heights campus on South Federal Boulevard to MSU-Denver for use by students of both schools.
That plan is now off the table.
"Following an extremely thorough due-diligence process, the Board determined that the expense of getting the CHU campus into usable shape plus its operating costs were simply too great a risk for MSU Denver," Cathy Lucas, a MSU-Denver spokeswoman, wrote in an email to BusinessDen last week.
Lucas said Teikyo declined a second offer from MSU-Denver this winter.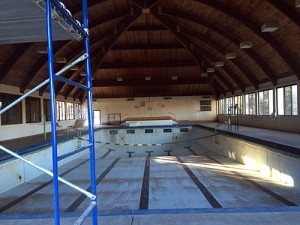 Reached by phone, Fred Van Liew, president of Colorado Heights University, said the letter of intent had lapsed and that "there aren't any discussions between CHU and MSU."

Van Liew said the plan was one more way Colorado Heights has been trying to offset facilities costs.

"The facility costs are taking up a large percent of our budget and we need to get that down so we can devote more money towards admissions efforts and putting more money into the classroom," he said.

A campus walk-through shows that some of the younger buildings need repairs. Interior tiles are chipping and part of a front porch is roped off with caution tape at Machebeuf Hall, built in 1950. A pool house and workout facility appears abandoned, its pool drained.

In the tax year ended June 2014, the most recent year for which data is publicly available, Colorado Heights reported a net loss of $1.6 million, less than the $2.2 million loss in the previous year.

At least two buildings on the Loretto Heights campus are being used by schools in the Denver Public Schools system, including Summit Middle School and Southwest Early College High School, a public charter school.

Van Liew said Colorado Heights will continue to seek more tenants and work to raise student enrollment in order to remain financially stable.

"We're basically just looking at maintaining our existing programs and growing them," Van Liew said. "Our spring enrollment was up 10 percent over a year ago."

When the deal between the universities was announced in September, MSU-Denver issued a press release calling the agreement a "game-changing partnership" that would include the creation of an "international business park." CHU also would provide an English as a Second Language program to MSU-Denver.

Last fall, MSU-Denver President Stephen M. Jordan told The Denver Post that the transfer of property would not require "any appropriation" for MSU-Denver to assume ownership. The property transfer was scheduled to close by July 1, according to MSU-Denver's initial press release.

The governor's proposed budget for the 2016-17 fiscal year calls for a $20 million reduction in funds allocated to Colorado colleges and universities.

8066