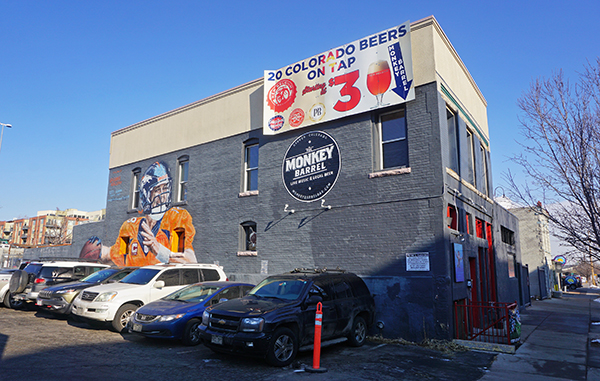 Platte Street is getting even more office space.
Unico Properties bought the Monkey Barrel bar at 1615 Platte St. for $2 million last week. The Seattle-based real estate firm is pitching a four-story development that will replace the bar and continue a wave of new development on Platte.
Plans submitted to the city, not yet approved, show about 82,000 square feet of office space, 6,600 square feet of restaurant space and 2,500 square feet of retail space. The latest site plan came in March 3.
In a Tuesday phone call Ned Carner, Unico's vice president for acquisitions, said demolition is scheduled to start in July and the building will break ground even without firm leases inked. Unico, through a public relations representative, declined any further comment.
The office space will be in the top three floors, with retail stalls at ground level facing Platte Street. There are two retail strips separated by a building lobby. The larger of the two, marked as the restaurant space, is on the building's west side nearer to 16th Street and the Highlands pedestrian bridge.
Plans show three floors of underground parking and about 150 spaces.
Open Studio Architecture, the same firm that designed The Lab next door and the Galvanize 2.0 building across the street, is the architect listed on Unico's site plans.
The Monkey Barrel site is the last bit of a three-piece land assemblage Unico has put together for the Platte Street development. Unico paid $500,000 for 0.40 acres of vacant land around the bar in March 2014. The company added a small brick building just east of the Monkey Barrel for $900,000 a month later.
Unico has not been active in Denver development in recent years, but the company has pumped plenty of money into the city's real estate market.
Since January 2015, Unico has bought an office building at 1430 Wynkoop St., the Denver Club building on 17th Street, a cluster of Cherry Creek buildings at Second and Josephine, and the Elephant Corral building on Wazee Street.
Those acquisitions totaled more than $115 million.
Meanwhile, the Monkey Barrel is leaving Platte Street for Sunnyside. Owner Jimmy Nigg has leased a new space at 4401 Tejon St., with plans to reopen the Monkey Barrel in the second quarter.
Monkey Barrel isn't the only business swinging off of Platte Street as development reaches a fever pitch. Empire Staple Co. sold its building down the street last month to developer Trammell Crow Co.
Empire Staple moved its operation to Adams County and Trammell Crow is redeveloping its former Platte Street headquarters.
Unico has more real estate to work with on Platte Street. The company spent $24.59 million to buy up nearly the entire 1500 block of Platte Street in March 2014, city records show.
That package included about 96,000 square feet of leasable space between the Root building at 15th and Platte, and the Zang building at 1553 Platte St.
Aside from a small, 0.20-acre parcel at 1537 Platte St., Unico owns the entire north side of Platte Street from 15th Street to the Denver Beer Co.