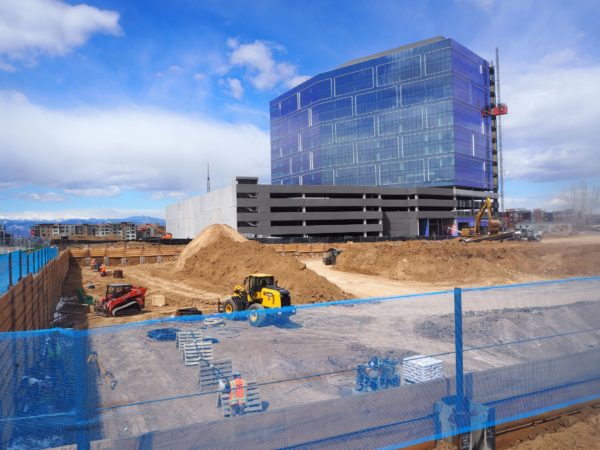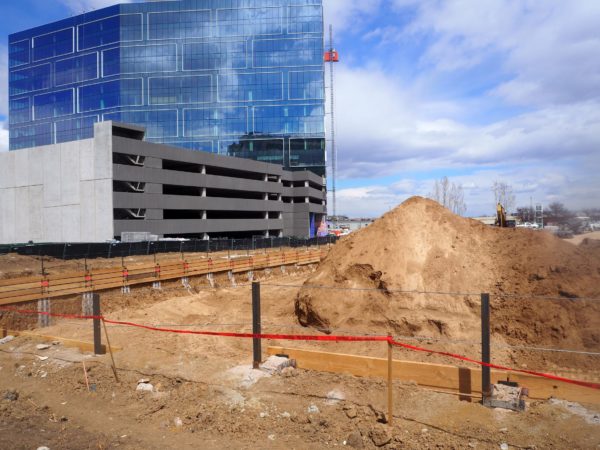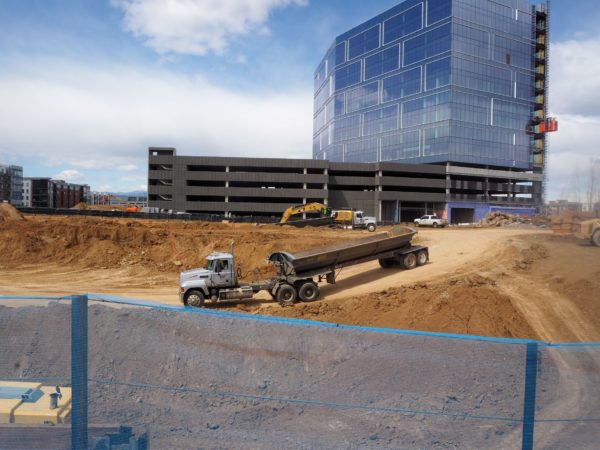 Hospitality firm Stonebridge Cos. has broken ground on its Belleview Station project.
Crews are excavating the earth at 4885 S. Quebec St., which is the northwest corner of Quebec and Chenango Avenue and where the company plans to build an 18-story project.
The site previously was home to a hotel consisting of three two-story buildings. The property was for years an Extended Stay America but was rebranded Economy Suites DTC months before being demolished.
Denver-based Stonebridge owns and operates hotels, but the 18-story building will have more office space than rooms, according to development plans.
Through a spokesman, Stonebridge declined to answer questions about the project. The company has not released a rendering of the structure, but the one below was included on permit applications submitted to the city.
Stonebridge's plans for the site go behind a single building. The company submitted a project concept to the city in December proposing a 20-story structure north of the 18-story structure. It would have hotel rooms on floors two through 10, and residential units on floors 11 through 20.
Below are photos of the site taken last week, as well as additional details about the 18-story project.
Address: 4885 S. Quebec St.
Developer: Stonebridge Cos.
Architects: Beck Architecture and Open Studio Architecture
Specs: Development plans submitted to the city last year show the building will have retail, restaurant and lobby space on the ground floor, and amenities, including a pool, conference room and fitness area, on the second floor. Above that would be five floors of hotel rooms, approximately 236 rooms in all, topped by 11 stories of office space.
In all, 355,419 square feet will be devoted to office use, compared to 145,651 square feet of hotel rooms, according to the plans. There will be three levels of underground parking.
Groundbreaking: Earlier this year
Nearby: Across the street, Denver-based Prime West is wrapping up work on its 15-story office building at 6900 Layton. A number of development proposals have been submitted for nearby parcels but have yet to break ground. Denver-based Vectra Bank wants to build itself a nine-story headquarters building just north of the site. And real estate firm Cypress 16 has proposed a 20-story Kimpton hotel just west of the site.