An approximately 2.5-acre site straddling Walnut Street in RiNo has sold to a development team planning a mixed-use project incorporating an entertainment venue, dubbed "Train."
Denver-based Invent Development Partners and New York-based partner Halpern Real Estate Ventures last week purchased the triangular block formed by Walnut, 40th and Franklin streets, as well as the bulk of the similarly shaped block formed by Walnut, 40th and Blake streets.
"Our goal is to create the most exciting development in RiNo; that is, a true mixed-use development," Invent President Jon Dwight said.
The sites are a short distance from the 38th and Blake commuter rail station. The companies paid a total of $20 million — $10 million for each block, according to county records.
But the deal, in the works since 2016, was a little more complex with that. Prior to closing on the eastern block, the buyers had to build a new facility at cost elsewhere for Mile Hi Express, the cold-storage warehouse and trucking company that sold the site.
Invent and Halpern have yet to submit a development plan for the RiNo site to the city. But Dwight said that, on each block, the companies want to build two levels of restaurant, retail and entertainment space, topped by two towers.
On the western block formed by Walnut, 40th and Blake, the towers would be an approximately 275,000-square-foot office building topping out at 14 stories and an approximately 200-room hotel topping out at 16 stories.
Dwight said plans for the eastern block call for one hotel tower and one residential tower, each topping out somewhere between eight and 12 stories. There also would be a parking structure and a 400-to-500-seat entertainment venue that the developers are calling "Studio in the Rockies."
"Our first two levels really keep with the fabric of RiNo," Dwight said. "You'll see a lot of industrial design."
Dwight noted that the western block is within an opportunity zone. And both are within a zoning overlay district implemented by the city in 2018 that allows for greater density than previously allowed.
Davis Partnership is the project architect. Dwight said the companies haven't established a development timeline, but "we're moving full speed ahead with the project."
The sites are now vacant. General Welding Supply, which occupied the western block, moved out in 2017 when an entity affiliated with Invent purchased the property. (That entity sold the site to the joint venture last week.)
Mile Hi Express left the eastern block several weeks ago, after Invent and Halpern finished building the new facility for the company at 12550 E. 33rd Ave. in Aurora. The company had operated at its RiNo location since 1960, according to Mile Hi's website. Brokers Drew McManus and Bryan Fry of Cushman & Wakefield represented Mile Hi in the sale.
Invent previously built 14 townhomes adjacent to Backyard on Blake in RiNo. The company also owns a development site in the 3400 block of Walnut Street. While its website features renderings for a 12-story condo project there, Dwight said Invent is "struggling with construction costs."
Partner Halpern has not previously done projects in Denver, Dwight said.
The area around the 38th and Blake station is a hot spot for redevelopment in Denver. Other proposed projects include Formativ's hotel-and-office project World Trade Center Denver, McWhinney's yet-to-be-named 17-story apartment complex and Crescent Communities' 12-story Novel RiNo apartment complex. On the other side of the tracks, there's Westfield's North Wynkoop project, which includes the AEG entertainment venue Mission Ballroom, which opens later this week.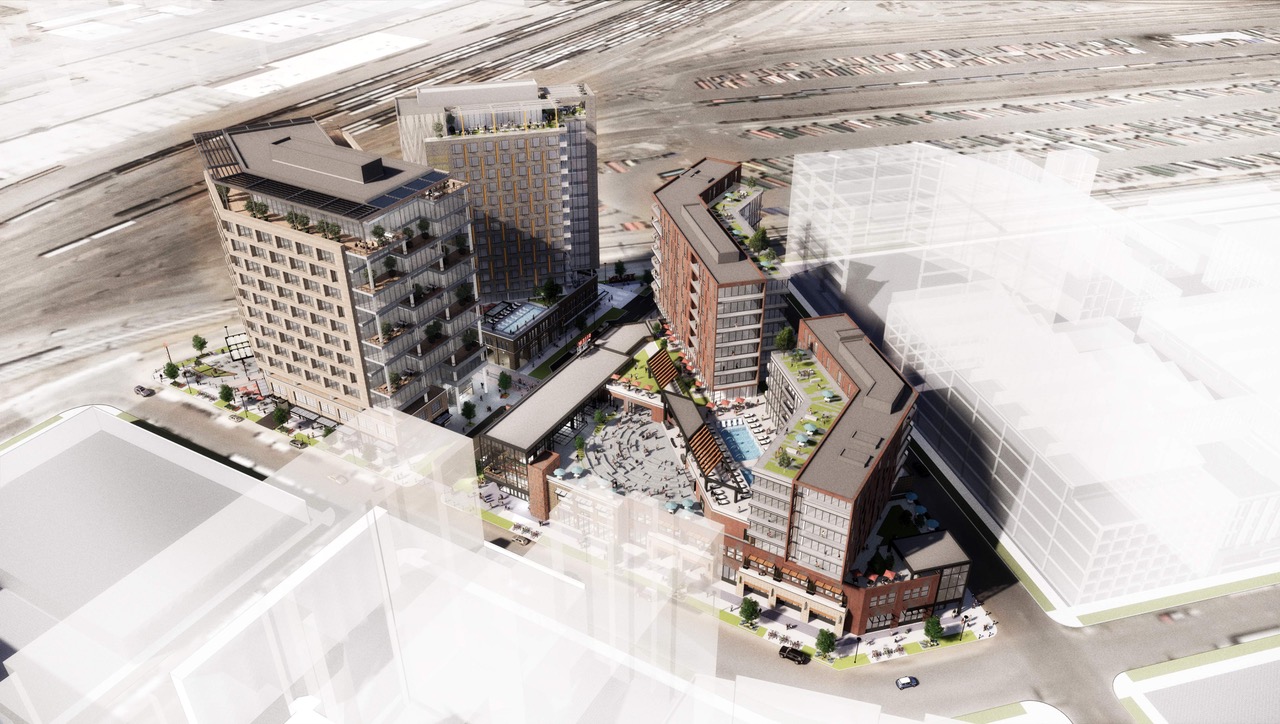 36912