Good River Beer Co. finally will get its very own flow of imbibers.
The brewery, which had been contract brewing since its 2015 launch, has taken over Renegade Brewing's former 15,000-square-foot production facility at 918 W. 1st Ave. at the Yard on Santa Fe.
Co-founder Adam Odoski said Good River has been brewing at the facility since January, and is also building out a 2,500-square-foot taproom in the space. If all goes according to plan, the taproom should be open for business by October.
"We've probably got the greatest failure rate of any brewery out there trying to get a taproom open," Odoski said. "It took us three years to secure this location — but this one is official; it's under construction."
Before its January move, Good River had been contract brewing at Sleeping Giant Brewing Co. in the Valverde neighborhood.
Odoski and co-owners Preston Hartman and Eric Zarkovich thought they saw a Good River taproom around the bend in 2017, and had begun work on a 7,300-square-foot brewhouse at 1790 S. Bannock St. But the renovations required to meet the city's zoning regulations ultimately became too costly, Odoski said.
Then last year, Renegade listed its production facility, located just a few blocks from its original brewery and taproom at 925 W. 9th Ave., for sale. The brewery had opened the space in 2015.
Westword reported at the time that the $1.2 million list price included brewing equipment capable of producing 11,000 barrels as year, along with the remainder of its lease.
"We were able to take care of two things at once — get our brewery operational, and have space left to build out a taproom," Odoski said of the facility's appeal. "We're able to brew all our beers at this facility."
The transaction did not include the real estate, which is owned by Denver-based real estate firm The Sherman Agency, according to records.
Odoski estimated construction will wrap up within four to six weeks.
Without its own taproom, the brand's revenue has almost exclusively come from distribution, Odoski said. Good River sells its products to bars, restaurants and liquor stores across Colorado and eastern Wyoming. Four of its 15 employees focus on sales.
"Good River has been growing in the double digits every year," Odoski said of revenue.
The three co-owners chose to name it Good River after their shared love of whitewater kayaking. The business donates 2 percent of its revenue to river conservation nonprofits, according to its website.
Good River's beer offerings include Fu Fighter (named after the Futaleufu River in Chile), Gunny (after Colorado's Gunnison River) and Class V (after the whitewater classification).
The Yard on Santa Fe, a lumber yard turned retail development, is also home to Deviation Distilling, Board Game Republic, Smokin Yard's Barbecue, Copper Door Coffee Roasters, furniture designer Fin Art Co., Rocky Mountain Flex Fitness and the Inspired Training Center.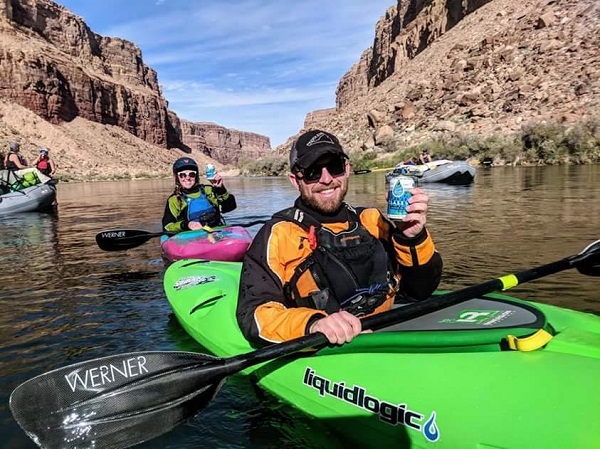 36624