It's happened in Manhattan, Washington, D.C. and London. And it could happen in Denver in the coming months.
WeWork soon could be downtown's largest private office user.
The New York City-based coworking company is currently No. 2 in the Mile High City's commercial core, leasing a total of 432,150 square feet of office space.
And WeWork is negotiating for more space.
"We are definitely seeing a ton of interest," said Tanya Nygaard, WeWork's Denver director of community. "Our spaces are about 95 percent full … we see a ton of need for it and a ton of potential, and we're going for it."
WeWork trails only DaVita in office space in the commercial core, counting RiNo and Midtown along with the Central Business District. The health care company currently has 691,446 square feet across three downtown buildings, one of which it owns. That figure will decrease this fall, however, when DaVita's lease at 1551 Wewatta St. ends and the company begins moving into its new headquarters at 16 Chestnut Place.
When that happens, DaVita will have 562,950 square feet, about 130,000 square feet more than WeWork.
WeWork has vaulted to the No. 2 spot after only three years in the market. The company signed its first lease in 2015, for space in the Triangle Building near Union Station. Within weeks, it had signed its second lease, on Platte Street.
The company then plateaued for more than two years before going on a tear in 2018. So far this year, WeWork has leased seven floors at the Tabor Center, as well as space in the Wells Fargo Center and at the yet-to-be-finished Hub in RiNo.
The Wells Fargo Center lease, announced in July, was enough for WeWork to hit the No. 2 spot, passing Anthem, which occupies 374,343 square feet. Wells Fargo and TIAA round out Denver's top five.
Nygaard said WeWork's pace of growth will continue into next year.
"We have some other things in the works and we're always looking for other opportunities," Nygaard said. "We are definitely out there looking and bidding on great real estate."
WeWork said it's already the largest private office user in several other places. The company said last week that it had hit No. 1 in Manhattan, claiming the title from financial services firm JPMorgan Chase & Co. The company said it also hit No. 1 in London and Washington, D.C. earlier this year.
Nygaard attributes some of WeWork's growth in Denver to large companies relocating their employees to coworking spaces. Denver startup FullContact announced it would move into WeWork's Tabor Center location this summer, joining another Denver homegrown company, Effective.
"We are seeing companies that are interested in one or two floors, or half a floor," Nygaard said. "We have a few buildings where we see potentially more demand from enterprise companies (like) the Tabor Center. They love the location. The views are incredible."
Newmark Knight Frank office broker Andrew Blaustein said these "tenants in tow" appear to be what's behind WeWork's recent growth spurt.
Blaustein said he's heard talk of a company looking to use WeWork to enter the Denver market with a significant amount of space, and said there's evidence that suggest companies might effectively "look to outsource their real estate decisions" to the company.
"The key point is that WeWork is negotiating shorter-term leases for these tenants than you normally could get from a developer on a direct basis," he said. "Tenants are willing to pay a premium for that."
And while shorter-term leases are a selling point for tenants, Blaustein said WeWork's steady growth means the company also can tell expanding clients "don't leave us — you can grow with us."
WeWork's Colorado growth plans go beyond Denver. Nygaard said the company is looking for space in Boulder, although nothing has been finalized.
BusinessDen reporter Thomas Gounley contributed to this report.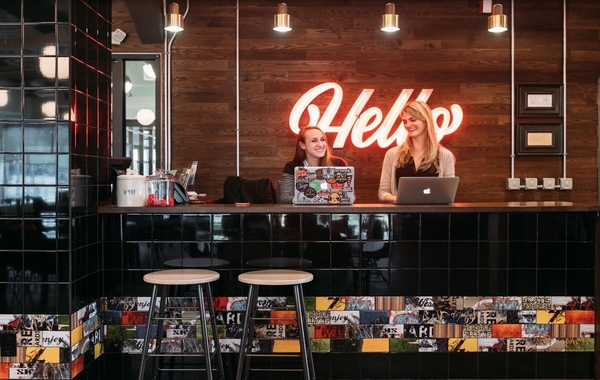 28861