For the fourth time this year, WeWork is taking up more space in Denver.
This time, the coworking giant is making its move into RiNo. A spokesman for the New York-based company confirmed Tuesday that WeWork has signed a lease at The Hub, a mixed-use development under construction at 3601 Walnut St.
WeWork will take the 45,000-square-foot fifth floor and will outfit the space with more than 900 desks by the time it opens in early 2019.
Tanya Nygaard, WeWork's Denver director of community, said in a statement that RiNo is "quickly becoming a major cultural center for Denver."
"This newest building announcement is the latest in a series of investments we are making in Denver," Nygaard said. "We are committed to this city, and we are just getting started."
WeWork opened its first outpost in Denver in 2015 in the Triangle Building at 1550 Wewatta St., and now has three locations in the Mile High City. Then it opened another office in LoHi, also in 2015.
WeWork has been busy in Denver in 2018. In January, the company announced its third location, now up and running in the Tabor Center, at 1200 17th St. In April, the company went back for seconds, leasing four additional floors in the building. In July, the company leased space in the Wells Fargo Center, at 1700 Lincoln St.
WeWork likely isn't done with RiNo. The company also has its eyes on Revolution360, at 3600 Brighton Blvd., according to sources, although nothing has been finalized.
The Hub, projected to open by year-end, will include 250,000 square feet of office space and 25,000 square feet of retail space. Boston-based Beacon Capital Partners bought the property in April 2017 for $19 million. JLL brokers Jamie Roupp and Julie Rhodes are listing the office space.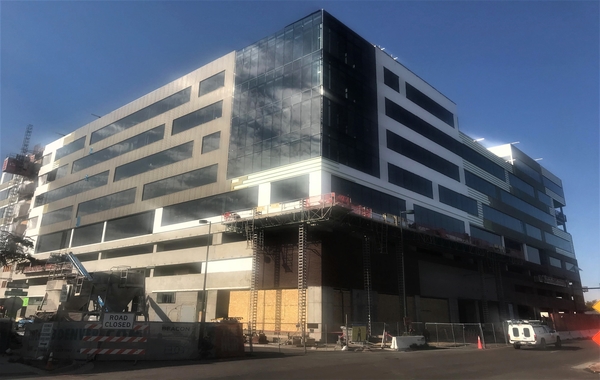 28393