Watch out, WeWork: a Chicago coworking brand is coming to Denver with 100,000 more square feet of shared office space. And deep pockets.
Shared office startup Level Office last week purchased the office tower at 1630 Welton St. for $9.5 million.
The company says it will spend $10 million more to transform the former home of the Colorado Athletic Club into 110,000 square feet of office suites and coworking space, with bells and whistles like a new rooftop deck and a façade update.
Level Office is betting it can charge less than competitors like WeWork by buying into each market rather than renting.
Without its own rent to worry about, Level Office can undercut the price of other coworking providers by 30 to 50 percent, founder Bill Bennett said. The discount in Denver will be even steeper: Bennett said a Level Office open desk will start at $99 a month, compared to $350 per month at WeWork's Denver locations.
Bennett said Level Office's private office space usually costs between $100 to $300 monthly per person. WeWork's Denver price per person starts at $600 for a one-person office and drops to $460 per month for a 50-seat office in LoHi, according to a price list on its website.
"Companies that are in WeWork or Galvanize, for example, we're finding that a lot of people there will move into our business," Bennett said.
Level Office today spans more than one million square feet, by Bennett's tally, spread across 16 locations in 12 cities. The Denver center will be the second-largest building in the startup's portfolio.
The building is also large in the scheme of more than 900,000 square feet of shared office space in the city. The acquisition puts Level Office within striking distance of WeWork's 122,000 square feet in Denver – split between the Triangle Building and the Lab on Platte.
Level Office bought both the 1982 building on Welton Street and the land, which it has converted from a land lease to fee simple ownership. The land sold for $3 million, according to city records. Bennett said the building cost $6.5 million.
Matt Ball with Colliers International represented Level Office, according to the company, and Avison Young broker Lowrey Burnett represented the seller.
Bennett had been eyeing Denver for four years, impressed by the number of entrepreneurs and smaller firms relative to the amount of suitable office space. Then Level Office found 1630 Welton, 20 percent occupied and centrally located, with architectural quirks that might have frightened another buyer.
"Conventional office users don't know what to do with a basketball court on the roof or 24-foot ceilings," he said. "We can redevelop it like we want."
The basketball court will become a 4,000-square-foot roof deck, Bennett said, with a grill, bar and event space. Level Office is using the 24-foot floors for open coworking and common spaces. Other shared amenities include the usual trimmings of a shared office: coffee, WiFi, bike storage and a yoga room.
Bennett got the idea for Level Office while shopping for an office to house one of his earlier ventures, a student housing investment firm.
Owning real estate became central to Level Office's business model, Bennett said, so that it isn't at the mercy of the rental market.
"The real opportunity in the business is to buy the buildings," he said. "I've never ever heard of another business where (the operator) didn't have control over their number-one revenue driver and their number-one expense."
The startup also hopes to differentiate itself with design. Its suites in Denver will have sheetrock walls with glass windows at the front, a layout Bennett said is intended to give tenants more "privacy and professionalism" than the glass-enclosed offices popular in rival coworking operations.
There are now 12 Level Office locations. Two more offices – including a portion of 1630 Welton – are set to open within a month. Beyond that, Bennett has purchased properties in Chicago and San Diego and is under contract to buy another in Nashville.
He said the business has been raising capital on a building-by-building basis. In the case of the Denver office, he said, the financing comes out to half equity and half debt. According to city documents, Level Office took out a $13.1 million mortgage from Byline Bank in concert with the land and office buy.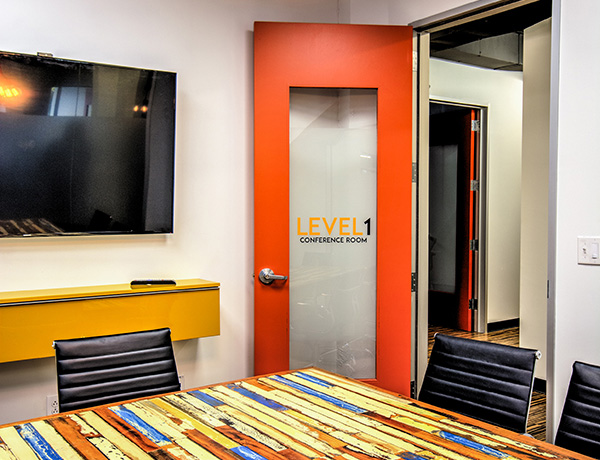 17774