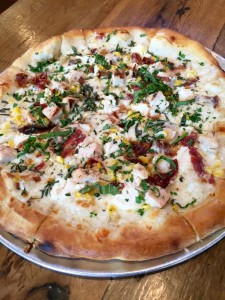 A Denver restaurateur best known for burgers is looking to grab a slice of Arvada's pizza market.
Jean-Philippe Failyau, founder of the Park Burger chain of restaurants, is flipping his attention to pizza. He's opening a second Homegrown Tap and Dough – the first opened in 2014 on South Gaylord Street in Wash Park – in Olde Town Arvada.
The new joint will take the place of the Braun Taphaus & Grille, which closed in August.
Peter Newlin, the operations manager for Tap and Dough and Park Burger, said the new location has been in the works for two years.
"I think as Denver continues to grow, a lot of young families and professionals are going to start moving to that neighborhood," Newlin said.
Tap and Dough signed a lease on a 4,200-square-foot restaurant at 5601 Old Wadsworth Blvd. in Arvada three weeks ago, Newlin said. It's Failyau's seventh restaurant in Denver, including four Park Burgers, the original Tap and Dough, and his uptown eatery Park and Co.
The company will invest between $500,000 and $750,000 in renovating the facility, Newlin said, which will include new seats and decor, as well as an arcade.
Architect Rory Bilocerkowycz designed the project, Newlin said.
"I think Gaylord Street, Old South Pearl Street and even RiNo have a similar feel and walkability to Arvada, and we're excited by the fact that they're putting a light rail station in," he said.
Newlin said Arvada already has enough burger spots, so a Park Burger wasn't considered.
"Going into a place where restaurants have failed is kind of scary and you need to plan accordingly," Newlin said. "We want to make sure that doesn't happen to us, and to do that we need to figure out what that neighborhood needs. There are a lot of great restaurants around there where you can get a burger, so we thought that Homegrown would be a better fit."
And there's likely to be more expansion from the Park Burger and Tap and Dough camp soon, Newlin said. The company is scouting for locations in Kansas and Texas.
Failyau opened the first Homegrown Tap and Dough at 1001 S. Gaylord St. in July 2014. He opened the fourth Park Burger location in RiNo earlier this year and sold a franchise to a DU alum in Kuwait.
5937