While the Denver City Council has yet to vote on new regulations for developers, they're already having one noticeable effect.
The number of development plans submitted to the city jumped in the first five months of 2022 compared to previous years, showing firms are hyper aware of a critical upcoming deadline, according to a BusinessDen analysis.
The city's "Expanding Housing Affordability" plan — slated to be voted on Monday evening, and widely expected to pass — will require residential developers building a new project with at least 10 units to either incorporate a varying amount of income-restricted units, or to pay between $250,000 and $478,000 for each missing unit. The plan would also increase the "linkage fee" for non-residential projects.
Projects for which the city receives a concept plan by June 30, however, will be grandfathered in under the existing regulations. Under those, developers don't have to incorporate any income-restricted units at all, although they do have to pay a linkage fee.
Concept plans are early-stage development proposals submitted for specific properties. They are the precursor to a more detailed site development plan.
In the first five months of the year, the city received 205 concept plans for specific projects, according to data provided by city staff.
That's an increase of about 18 percent compared to the same period in 2021. And it's the most plans submitted between January and May during the last five years, the time period that BusinessDen opted to review.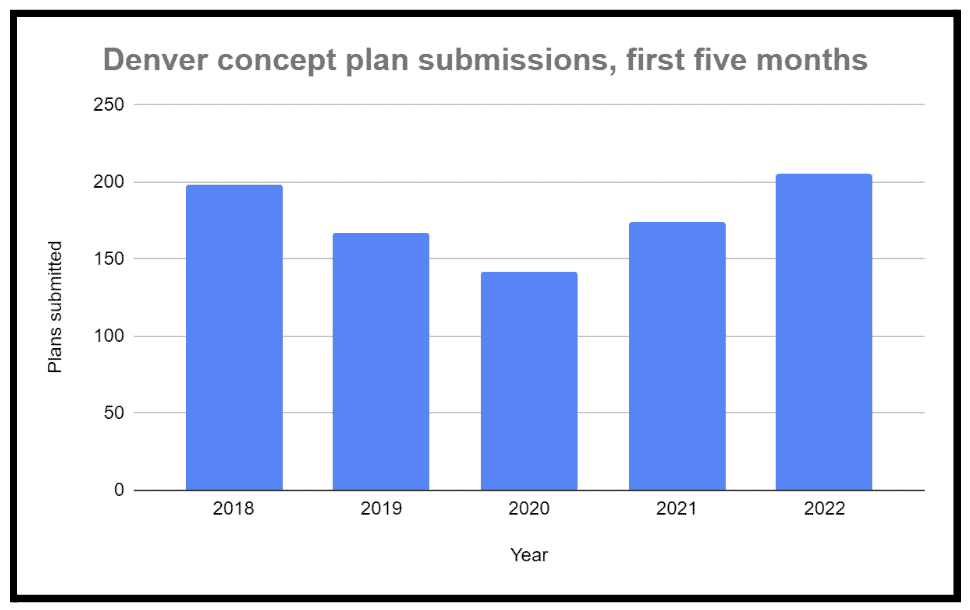 The increase is not necessarily surprising.
"The city expected to see more plans come in before the June 30 deadline than after," Laura Swartz, spokeswoman for Denver Community Planning and Development, said in an email.
At an April council committee meeting, Councilwoman Robin Kniech described the rationale for grandfathering as being "basically the idea that, if someone has already started a process with the city, they get to continue that process … without the rules changing on them."
"We've done that for slot homes, we did that for marijuana licensing," she said, referring to other recent rule changes.
The number of concept plans surged in May. Plans for 59 projects — including the redevelopment of Great Divide's RiNo facility, a 37-story residential tower in Ballpark and an apartment-and-office project in LoDo — were submitted, compared to between 31 and 39 in each of the first four months of the year.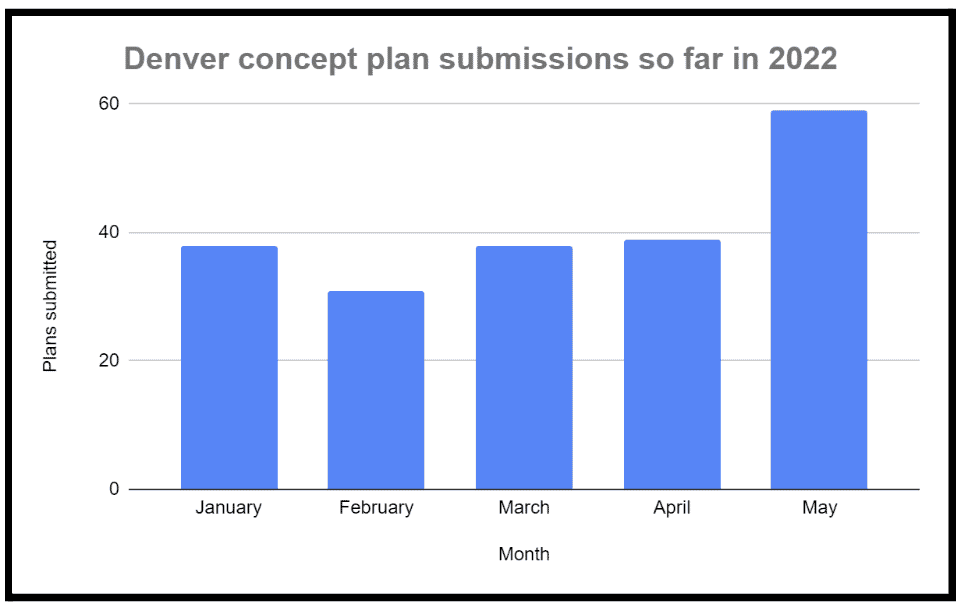 June is likely to see a big number as well, given that it offers the last chance to be grandfathered in. The city received 12 concept plans between Wednesday and Friday, the first three days of the month, records show.

During the five-year period BusinessDen reviewed, from 2018 to 2022, the number of plans submitted between January and May was lowest in 2020. There were 142 submitted that year, a factor likely impacted by the economic uncertainty at the time prompted by the coronavirus pandemic.

After 2022, the year with the highest number of plan submissions was 2018. There were 198 submitted through May that year, just 3.5 percent fewer than this year's 205.

Submitting their concept plan by June 30 isn't the only thing that developers have to do to be grandfathered in. They must also have their site development plan approved by either Aug. 30 or Dec. 31, 2023, depending on the type of project.

In April, Denver Councilman Kevin Flynn expressed concerns that some developers might miss the approval deadlines because their building plans sit unseen for weeks on a city staffer's desk.

"I have (site development plans) in my district that have been in process since concept for 19 months and 20 months," Flynn said at the time.

Swartz told BusinessDen last week that, given the surge in concept plan submissions, those coming in close to the deadline may take longer to review than ones received months ago.

"The ordinance's proposed effective dates have been public since October 2021," she said. "However, the city will monitor the impact of review timeframes every six months and determine whether an extension to effective dates or another solution is warranted in the future."

110696