Two big names have closed a deal in Cherry Creek — and change is in store.
On Tuesday, Matt Joblon's BMC Investments purchased three buildings in the 200 block of Milwaukee Street from the Gart family, paying $30.8 million.
Joblon is Cherry Creek's most high-profile developer, completing multiple office, multifamily and hotel projects in recent years. The Gart family founded a sporting goods retail chain that merged with Sports Authority in the early 2000s and shifted into real estate.
Tuesday's deal included the five-story office building at 299 Milwaukee St., where Gart Properties has its headquarters, as well as the two structures to the south.
The office building dates to 1980 and was purchased by Gart in 2004 for $8.7 million, according to property records. The buildings to the south are home to First Western Trust Bank, Balani Custom Clothiers, Cherry Creek Watch Co. and Japanese restaurant Kobe An.
But the deal might be better described as consisting of 1.07 acres, which went for $660 a square foot. That's because Joblon is planning to redevelop the site.
"It's really designed for where we're going, not necessarily where we are today," he said of the planned project.
Joblon said BMC and Boston-based Rockpoint plan to build a 156-unit apartment building with about 30,000 square feet of ground-floor retail space.
Compared with St. Paul Collection, the high-end apartment-and-retail complex Joblon developed a block away, the units will be smaller — an average of 885 square feet, compared to 1,450 at St. Paul Collection. There will be studios and one- and two-bedrooms. St. Paul Collection has no studios, and has a number of three bedrooms.
That will translate into cheaper rent, which Joblon estimated will average in the mid-$3,000 range.
The project is designed to appeal to young professionals. Amenities will include a rooftop pool.
"You're seeing the demographic trending younger and younger in Cherry Creek," Joblon said, noting this is aided by new office projects under development in the neighborhood.
He said the setup also will ensure the project complements, rather than competes with, St. Paul Collection.
The building would step up from five stories on the north end of the site to eight stories on the south end, according to plans submitted to the city, which also indicate there would be 256 parking spaces. The zoning for that height is already in place.
"There's still a dearth of residential in Cherry Creek North," Joblon said.
Joblon said he hopes to demolish the existing structures at the site around April 1 next year and finish the project by the end of 2024. Shears Adkins Rockmore designed the structure. Haselden is set to be the general contractor. Rottet Studio is the interior designer.
Besides St. Paul Collection, Joblon's previous multifamily projects include Steele Creek at 3222 E. 1st Ave. He is currently constructing a seven-story office building at 255 Fillmore St., which will also be home to the restaurant Le Colonial. At the end of last year, Joblon also sold his 170-room Moxy hotel at 240 Josephine St., one of three hotels he's developed in Cherry Creek.
Evan Gart, vice president of operations for Gart Properties, said the company opted to sell the site because it knew the properties were underbuilt in the wake of zoning changes over the past decade or so.
"Although we are real estate investors and operators, we're not ground-up developers," he said.
Gart said the company originally moved its offices into the 233 Milwaukee St. building in parallel with selling the sporting goods chain, then expanded into the 231 building. The company moved into 299 Milwaukee after buying that structure.
The 299 building once housed the offices of cable pioneer Bill Daniels, Gart said. There are now a couple fountains in the large brick courtyard to the north of the building, at the corner of 3rd and Milwaukee. But the look was once much different.
"There was at one point a big satellite dish there," he said.
Other building amenities include a basement squash court, which Gart said is "somewhat" still used.
Gart said the company plans to relocate its offices nearby, although he declined to disclose where.
"We are staying in Cherry Creek, and we're working on another deal now," he said.
Other sites within Cherry Creek are being eyed for redevelopment. Property Markets Group, which has offices in New York and Miami, paid $18.5 million at the end of last year for a site along 2nd Avenue between St. Paul Street and Steele Street, and has proposed a condo project. And a Dallas-based developer paid $29 million in early May for 0.72 acres in the 200 block of Detroit Street.
: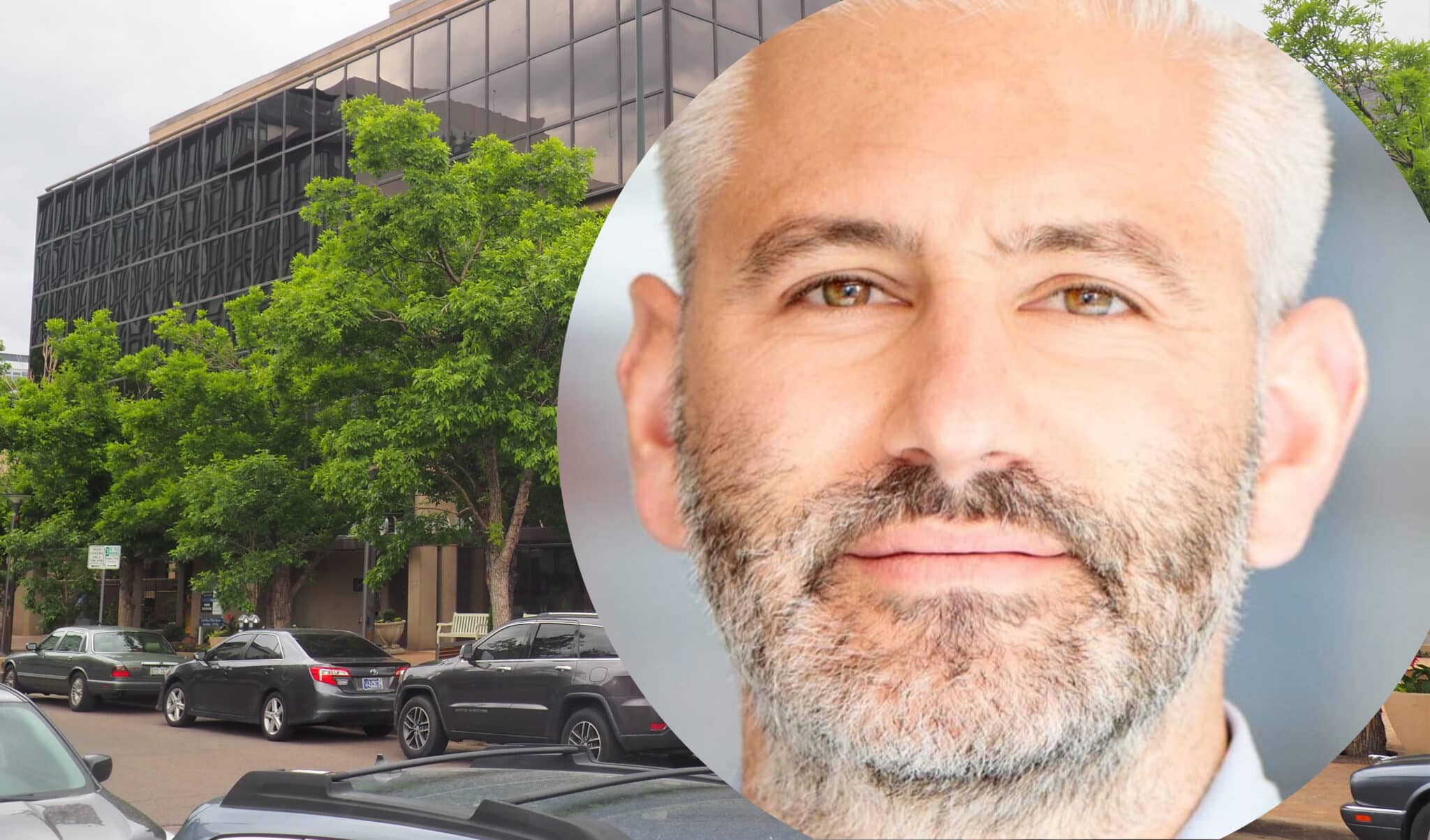 110612