A full floor of office space in LoDo's Dairy Block is no longer under CTRL.
CTRL Collective ceased operating the coworking space that takes up the building's 42,635-square-foot third floor on May 5.
But that doesn't mean the hot desks and small private offices have left. A new operator has taken over the space at 1800 Wazee St., branding it "Flex Office – Denver."
Flex owner Chez Dyas, 38, said his company took over on May 6, and signed a new master lease with the landlord.
Dairy Block was developed by McWhinney, Grand American Inc. and Sage Hospitality. The office portion of the project was completed in early 2018, and CTRL opened that March, according to previous BusinessDen coverage. A year later, in spring 2019, a CTRL executive said the company was spending $850,000 on renovations designed to better cater to larger companies.
A CTRL executive didn't respond to a request for comment last week, and Dairy Block General Manager Don Cloutier declined to comment on the specifics of what prompted the departure.
"We parted ways pretty amicably, all things considered," he said.
CTRL also lists two coworking locations in California on its website.
Dyas said he's owned and operated other small businesses, generally in the realms of human resources, and was "looking for opportunities" in coworking. He also said he'd previously dealt with staff at McWhinney.
"I just think it's going to be one of the great opportunities as people come back into the office," Dyas said of coworking.
Dairy Block already has retail space on the ground floor — notably the food hall Milk Market —  and Don Cloutier said McWhinney likes coworking because it brings that "activated lifestyle" up into the office building. The building also has traditional office tenants, including Hord Coplan Macht, Prologis and McWhinney itself.
The past year has brought a number of shake-ups to Denver's coworking scene. The Riveter and Charley Co., separate operations in RiNo aimed at women, closed last summer after less than a year. And WeWork shuttered four Denver locations at the end of February.
The shift from CTRL to Flex wasn't even the only local coworking shake-up to happen on May 6. That same day, about a mile south, a Venture X franchisee finalized its acquisition of coworking space Modworks in the Petroleum Building.
Dyas, who moved to Denver about six years ago, said his company is honoring leases that CTRL had with subtenants, and has been able to hire some former staff as well.
The space has 97 private offices, as well as conference rooms and a host of hot desks, Dyas said. It can accommodate about 600 people total. Dyas said the space was about 25 percent leased when he took over.
"We're closer to 40 to 50 percent now," Dyas said, and he expects that figure to continue to improve.
Dyas said he thinks companies are rethinking their office footprint as society emerges from the pandemic, and businesses like his let them "flex in and out." He praised the physical space he took over, and indicated he's also making some improvements.
"We're actually building a podcast studio. We have a pretty substantial community of podcasters here," he said.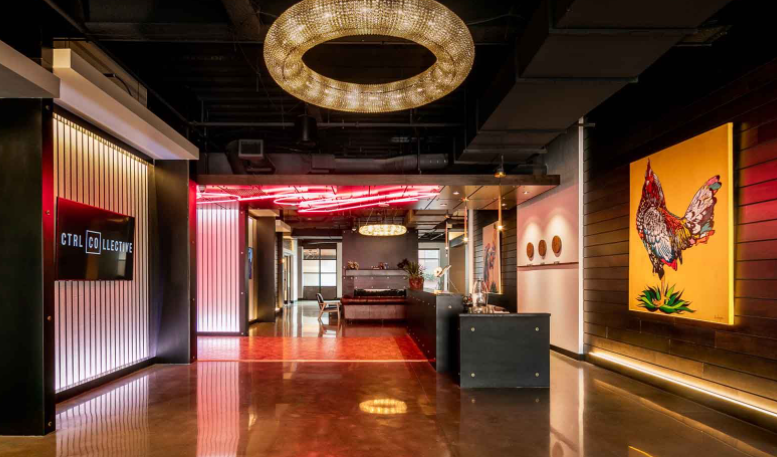 104867