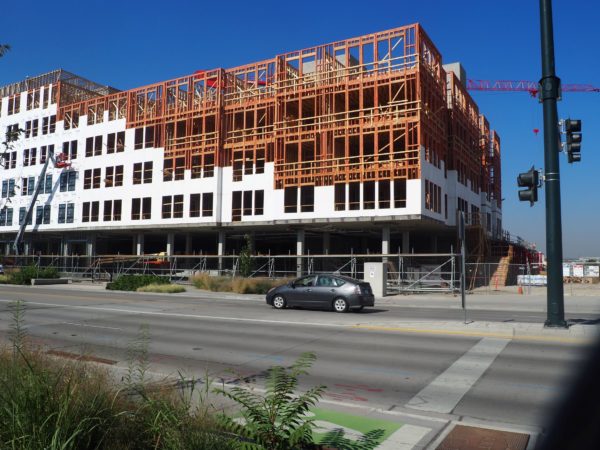 Another multifamily project is in the works along Brighton Boulevard.
San Francisco-based Carmel Partners is in the process of building an apartment complex at 3299 Brighton Blvd., which its website refers to as Drivetrain.
The project is slated to have 417 units and is being built on 2.9 acres. The development plans refer to it as a seven-story project based on how the partially-underground parking is counted, but it appears that those viewing the building from Brighton will see six stories.
Here are photos of the project taken last week.
Developer: Carmel Partners
Architect: 4240 Architecture
Elsewhere in town: Carmel Partners has developed six other complexes in the Denver area, and renovated others. The company also owns one other prominent development site along Brighton in RiNo. The company paid $36 million last year for the parking lots across from the Pepsi plant at 3801 Brighton Blvd.
Nearby: Other multifamily projects under construction in RiNo are Zocalo Community Development's Edit at River North and Zakhem Real Estate's The Collective.
Map: