After taking a hard look at Galvanize's shuttered Golden Triangle location, DispatchHealth has instead landed at Industry RiNo Station.
With the one-mile move from its current space at Taxi, the health care startup — which dispatches nurses out on house calls — will jump from 7,400 square feet to 27,000 square feet.
In May, the health care company raised $33 million and at the time said part of the money would be used to move its headquarters within Denver.
Dispatch raised $31 million in 2017.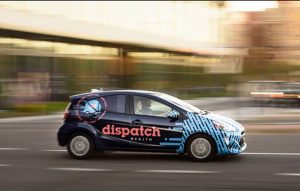 The company signed the lease at Industry RiNo Station (3858 Walnut St.) in mid-December, according to Industry co-founder Jason Winker.
The company, founded in 2013, expects to relocate from the Taxi development in the spring, Winkler said.
DispatchHealth is currently housed in four offices in three buildings at the Taxi campus, which Zeppelin Development built.
"We don't have any inventory between all our projects," said Kyle Zeppelin, development president.
He said the bulk of DispatchHealth's space at Taxi will be taken over by a fitness center, which is expanding.
"The timing is good in a lot of ways," Zeppelin said.
DispatchHealth's new office will hold approximately 230 employees. The move will let Dispatch consolidate into one building, something CEO Mark Prather told BusinessDen he was looking for last May when the new headquarters search began.
DispatchHealth operates in 18 cities, including Denver, Colorado Springs, Phoenix, Atlanta, Las Vegas, Dallas, Seattle and Portland. The company said in a statement that it is planning to operate in nine more cities by the end of 2020.