Vince Fucarino said the Cherry Creek home he designed for his brother is a "masterpiece."
The 30-year construction veteran worked with local architecture firm Barsch Design to fashion the home at 395 Detroit St. for owners Peter and Courtney Fucarino in 2014. Now, the couple want to unload the Cherry Creek mansion and are asking $6.5 million.
Vince, who relocated to Denver five years ago to take on the project, had some specific plans for the build.
"This is considered a Class 5 build, which is very similar to commercial construction," he said. "It's solid masonry, all the exterior walls are brick and block, and the floors are all concrete. It's completely soundproof and fireproof — a really strong structure."
The 0.14-acre corner lot, located at Detroit Street and 4th Avenue, already had been scraped when the married couple bought it in 2012, Vince said. The pair asked Vince to come out to Denver two years later to help build the home.
"When he first asked me to come, he was living in Belcaro, and he gave me a room on the main level to stay for the weekend," Vince said. "I noticed that I could hear my nieces walking around upstairs, and every time they'd flush the toilet I could hear water running down the wall."
To combat this in the new build, he put cast-iron pipes on all the home's vertical drain lines, so the sound of a toilet flushing isn't heard in other parts of the home. He also put soundproof insulation in the home's walls and installed concrete floors.
"You could walk an elephant on top of those floors and you wouldn't hear it," Vince said.
The home was finished about four years ago, and with the couple's kids about to leave for college, his brother and sister-in-law are looking to downsize, Vince said.
He thinks the ideal buyer would be someone who "could really appreciate construction and design at its finest."
If the home sells at its $6.5 million asking price, it would be the third-most-expensive home sale in Cherry Creek in the last decade, according to MLS records. Currently holding the No. 1 spot is the 2016 sale of 333 Milwaukee St., which nabbed $7 million.
In second place is this summer's sale of a 4,760-square-foot penthouse unit atop the 12-story Laurel Cherry Creek building at 155 Steele St., which sold for $6.74 million.
Of course, these hefty price tags would all be dwarfed if 460 Saint Paul St. sells at its eye-popping asking price of $14 million. That's $3.25 million more than the most expensive home to sell in all of the Denver metro so far this year.
Address: 395 Detroit St.
List price: $6.5 million
Stats: The five-bed, eight-bath home offers 7,350 square feet of living space atop 0.14 acres.
The finer things: Vince Fucarino described the home as a "masterpiece," complete with radiant heat, white oak floors, Smart Home technology, motorized designer blinds and commercial grade windows.
The residence is framed by floor-to-ceiling windows that provide natural lighting to the open living and dining rooms, centered by a double-sided fireplace. Outside is a large, private courtyard with fireplaces and a grill, all surrounded by NanaWall sliding glass walls that can be opened to connect the indoor and outdoor living spaces.
Located in the back of the home, the two-story master suite features vaulted ceilings and a spiral staircase leading to its loft, which opens up to a private terrace. The room's his-and-her walk-in closets are adorned with custom cabinetry imported from Italy. Three more ensuite bedrooms can be found on the upper level, reachable by elevator.
In the basement sits an additional ensuite bedroom, a home gym, a large media room and a wine cellar.
Seller: Peter and Courtney Fucarino, who purchased the plot of land in 2012 for $650,000, according to county records. Peter is founder and managing partner of ECM consulting firm AppTier; Courtney co-founded Denver Hit List, which provides paid subscribers with an "insider list" of Denver's best service providers.
Listing agent: Jeff Hendley of Compass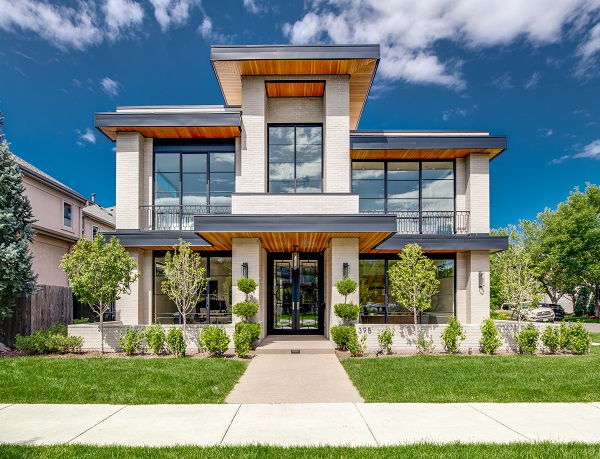 37217