Another batch of sweet treats soon will come out of the oven on South Broadway.
Insomnia Cookies has signed a new lease for 1,000 square feet at 78 S. Broadway, just two storefronts down from where Voodoo Doughnut recently opened.
Set to open by the fourth quarter of 2019, Insomnia's new outpost will be the second in Denver and fourth in Colorado, said company spokeswoman Meghan Maiolino. The chain first took a bite out of Colorado with a Boulder location in 2016, followed in 2017 by stores in Fort Collins and near the University of Denver campus.
"Every location is different, but this new location is hitting a lot of our goals," Maiolino said. "It's close to downtown Denver with lots of bars and restaurants around, and we're excited to be in that community where things are going on and things are happening."
The cookie chain is taking up space in two commercial buildings that Bayaud Investors LLC bought last year for $2.8 million. At the time, three of the five commercial spaces were occupied, but a new landlord and rent increases prompted one of the commercial tenants — 43-year-old Famous Pizza — to move out.
Voodoo Doughnut then took over the pizzeria's former 1,500-square-foot space, as well as the 2,500-square-foot unit next door. Insomnia will move into the commercial space between Badger's Pub and the former home of art studio Gildar Gallery, which closed in April.
Philadelphia-based Insomnia Cookies began in a University of Pennsylvania dorm room in 2003 when founder Seth Berkowitz began baking and delivering late-night cookies himself, according to the chain's website. Now operating 156 stores nationwide, the chain offers cookies at almost any time of day.
All bakeries open every weekday at 9 a.m., and at 11 a.m. on weekends, per a press release. And in keeping with its promise to cater to insomniacs, all stores are open for walk-ins or delivery until 3 a.m. every day.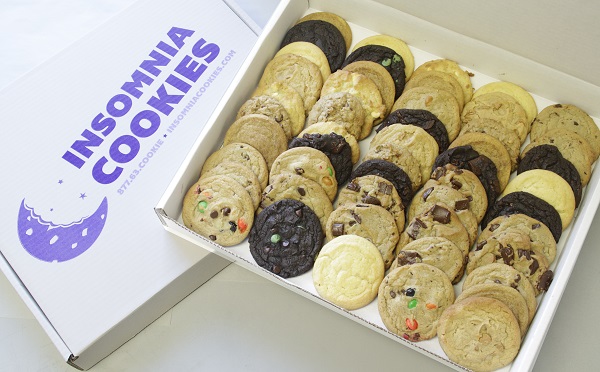 36210