Kelly Huff isn't puttering around.
The founder of indoor golf training facility South Broadway Country Club plans to open a second location in Berkeley this August, just one year after its original.
The second iteration will share a building with Empourium Brewing and DriveTrain Fitness at 4200 Tennyson St. Huff signed a five-year lease with options for two five-year extensions on the 2,500-square-foot space.
Like the original location at 2265 S. Broadway, the second — which will retain the South Broadway Country Club name — will have a full bar and two TrackMan golf simulators. Huff said the machines, which cost $60,000 each, are regularly booked out a month ahead of time.
"TrackMan is the PGA Tour standard for tracking golf balls," Huff said. "Denver had a need for TrackMan — the technology hadn't really made its way here yet."
Huff is funding the brand's Tennyson site with profits from the first location, which opened in August 2018. He expects the bar aspect to be more popular on Tennyson because of the area's foot traffic and proximity to other bars and breweries.
"I live close to Tennyson and I think it's an awesome area," Huff said. "I put this one (on South Broadway) because I like to hang out here, and I like to hang out on Tennyson too. And there's really no driving range in the neighborhood to practice."
The golf instructor opened the club's South Broadway location last year to cater to the avid golfing community he saw in Denver. Customers can reserve the TrackMan simulators for $40 an hour — about 18 holes — as well as get golf lessons from Huff on the machines.
Private lessons currently cost $100 an hour, but Huff said that price is increasing to $130 on July 1. He gave 1,300 lessons between August and December of 2018 and estimates that the winter months brought in an average of 80-90 people a week for either the simulators or lessons.
"During the winter, the simulators are booked nonstop," Huff said. "It slows down a little in the summer because people can play outside, but the game-improvement side also picks up."
He said the TrackMan simulators are largely unrivaled for those looking to improve their golf game, and that most pro golfers keep one for personal use.
"It tells you 40 different pieces of data about what the golf ball is doing and what the club is doing as it comes into the ball," Huff said. "I think if you're not taking lessons on TrackMan nowadays, you're kind of stuck in the past."
Tech rules
The high-end technology is what differentiates the brand from golf-centric entertainment venues such as Topgolf, which don't offer much in the way of instruction.
"The hardest part has been getting the message out to some of the traditional, old-school golfers that coming indoors and practicing can be beneficial," he said. "I'm trying to tap into the traditional side of golf and teach them about the technology. As soon as they come in and try it, they love it."
But though golfers looking to improve their game are its main demographic, the full bar and late hours also have tapped into a market of barhoppers.
"Word has spread out that it's a cool bar and a fun place to hang out even if you're not a golfer," he said. "We had a group come in recently that just wanted to play pingpong and drink beer. And the goal is to turn people into golfers too. It helps grow the game, which is what Top Golf is good at as well."
The Tennyson Street location is smaller than the original, so Huff said it may not end up incorporating the pingpong and pool tables found at the latter. It does have a patio, though, which Huff plans to turn into a small putting green.
Despite the size difference, Huff said he's paying more in rent on Tennyson than on South Broadway. He'll hire three to four bartenders for the new location; Jason Romero, director of operations, will oversee both locations.
South Broadway Country Club is closed on Mondays, but is open from 10 a.m. to 10 p.m. Tuesday through Thursday, 10 a.m. to midnight on weekends and 10 a.m. to 10 p.m. on Sundays.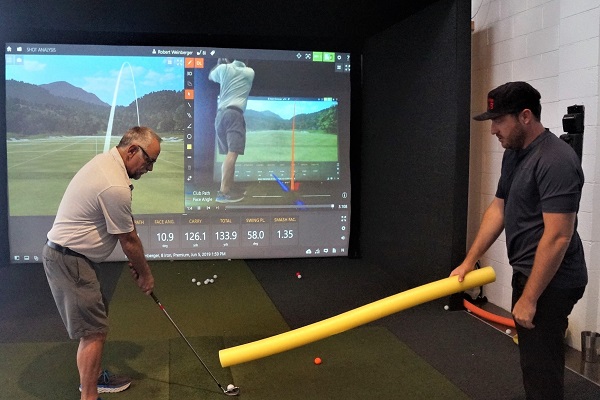 35350