Jim Deters likes launching companies.
The co-founder of Galvanize, the Denver-based coworking space-turned-coding school, is behind two businesses opening in a shopping center in the Virginia Village neighborhood.
Dryland Sports Co, which opened this week at 1435 S. Holly St., is a gym that focuses on full-body conditioning for young athletes. Unravel Coffee, meanwhile, is set to open next door in February, with what Deters describes as "literally the Tesla of roasting machines."
The pair will work in tandem to create what Deters calls a "family edu-tainment" space in the Virginia Village Shopping Center, where a swimming school also will open. The location is across the street from where his kids go to school, at the Montessori School of Denver.
"I'm hoping to turn this whole area into something cool," Deters said. "With the Little Kickers going in next door, it's the perfect combination."
John Livaditis of Axio Commercial Real Estate represented the landlord in the leases.
Deters said the idea for the gym came first, when he noticed that today's youth sports culture lacked the full-body conditioning needed to support growing bodies.
"We have this organized sports culture that really expects kids to specialize in a sport as early as eight or nine," Deters said. "Kids are becoming single-discipline athletes when they're still really young. The result is a lot of repetitive injuries and burnout."
When his oldest daughter was injured at a soccer camp in 2016, Deters said the rehabilitation process focused only on the injured part, rather than the full-body strengthening and conditioning that would prevent re-injury. So Deters hired local trainer Jason Stone, who built a rehab program that included strength, speed, agility and conditioning training.
The 14-month program helped his daughter get back in the game, Deters said.
During this time, Deters stepped down as CEO of Galvanize, which he helped found in 2012 and that has locations in eight cities. With the extra time on his hands, he decided to launch a gym based around his daughter's experience.
From the beginning, he wanted to have a coffee shop attached to the gym, he said.
"When I built Galvanize, we talked about the three C's for Galvanize: community, curriculum and capital," Deters said. "But the forth unofficial C was coffee."
So he turned to Steve Holt of Ninety Plus Coffee, one of Galvanize's first tenants. At the time, Holt said he was leaving Ninety Plus.
Roaster is the star
Together, the pair developed Unravel Coffee. They said the coffee shop's big advantage is a smokeless, ventless coffee roaster, created by Galvanize alum Ricardo Lopez.
"It's the only roaster that has zero emissions, so we can have it in the cafe," Holt said. "Usually, roasters have to be at a separate location, with gas lines and permits. This roaster is about the size of a commercial refrigerator and it's going to be built right into the coffee bar."
"We have the most cutting-edge technology — literally the Tesla of roasting machines," Deters said. "It'll be the first one in production in the world."
Deters said Unravel's menu will feature options such as avocado toast, yogurt with chia seeds and fruit, and collagen teas.
"Part of what we want to do is create something where parents can be an example," Deters said.
As part of that goal, Dryland will be open to adults during the days, when kids are at school. In addition to Deters, founding partners of Dryland include his wife Alicia, and trainers Jason Stone and Bobby Burling. The gym's training model is based on one found in swimming.
"For swimmers, dry land training is basically all the work you do in the gym when you're not in the pool," Deters said. "But it's applicable to all sports. It's about the strength, speed and conditioning work you do in the gym that equates to performance in your sport."
Deters said his goal is to build a staff of 12-15 trainers who've played their sport at the highest level and can break down the movement of the sport in training.
Dryland sells memberships in three categories. Youth memberships are $180 per month, adult memberships are $250 per month, and family memberships (for up to five people) are $650 per month. The membership also includes access to the gym's recovery equipment, which includes a hyperbaric oxygen chamber and an infrared sauna.
Deters said he hopes to open more Dryland/Unravel locations locally.
Beyond Galvanize, Deters and his wife also founded ChoLon Bistro in LoDo in 2010. And he's a partner at Upslope Ventures (formerly Galvanize Ventures), an early-stage tech venture fund.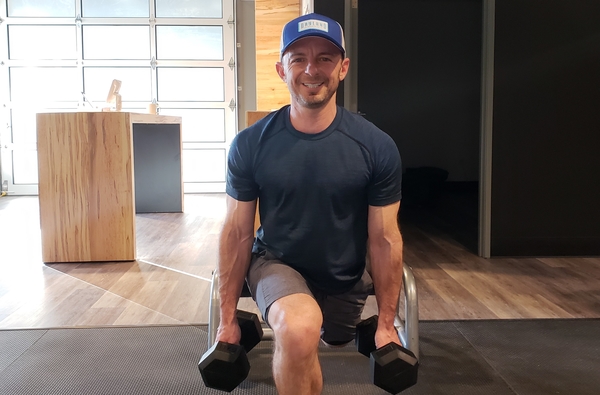 30580