The hail-damaged Colorado Mills Mall is in a $50 million race against the clock.
The Lakewood mall last month obtained building permits for more than $50 million in renovations and said in a statement it wants to open as many stores as possible by the Black Friday shopping holiday.
Contractors working on the mall interior were issued permits in early August by the city of Lakewood to begin construction on common areas of the 1 million-square-foot building.
The Mills closed after a May hailstorm dropped golf ball-sized hail through the building's roof.
Jim Gabel, a project manager with AMI Mechanical, said his company is working on 40 stores that were declared priorities before working on common areas and other stores. The mall has been cleared to do work on 90 stores, half the mall's total count before it closed.
Inside, Gabel said, the flooring has been torn out and sheetrock has been replaced. He estimated that, between all the contracting companies, there are 450 people working at the mall.
Colorado Mills contractors
Beck Development LLC
building permit – $50 million
Sturgeon Electric Co.
electrical permit – $620,000
Prime Communications Inc.
electrical permit – $100,000
AMI Mechanical
mechanical permit – $250,000
AMI Mechanical
plumbing permit – $250,000
The Mills has been piecing itself back together since the storm, focusing first on tenants with external entrances.
Target remained open, while work was done to replace its roof. The Yard House reopened in mid-August and Dick's Sporting Goods held an opening ceremony last weekend. A new Yoga Pod studio, which originally was scheduled to open in June, has pushed back its opening date to Oct. 1.
A few stores inside the mall have been issued permits to start construction. Zumiez, a skateboard clothing store, received a permit for water damage repairs in June. A store representative said construction has not started yet.
Stacie Oulton, Lakewood public information officer, said that as of Sept. 1, permits had been given to five stores. Off Broadway Shoe Warehouse is remodeling its 23,000-square-foot space. Levi's and Build-A-Bear Workshop both received permits for water damage repair. Buckle received a permit to work on its entryway, show windows and dressing rooms. The Guess Factory store will be doing tenant-finishing work on its 5,200-square-foot store.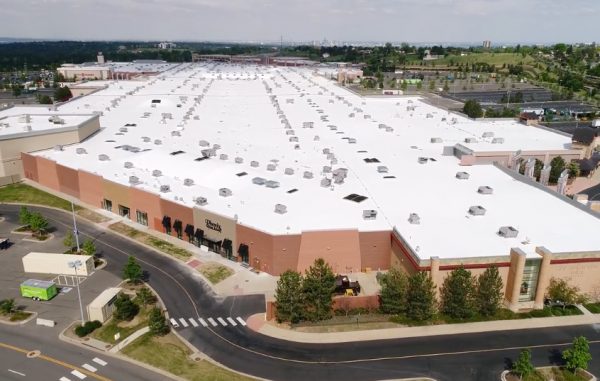 19946