Feeling a little too constricted, a RiNo-based company is getting larger home in the same neighborhood.
Zeppelin Development has broken ground on a new $50 million office building for Taxi tenant Boa. The development will put Boa in a new 100,000-square-foot office space and free up nearly 40,000 square feet of space at Taxi's Drive I office building that Boa can no longer squeeze into.
"Boa went from two floors at Drive I, to 2 ½ floors and then all four floors," said Kyle Zeppelin, a principal at Zeppelin Development. "We were able to accommodate them by moving people around, but when we got close to running out of space they put us on notice that they would need significantly more."
Zeppelin is calling the new building Flight, and it will sit at 3575 Ringsby Court near the recently completed Freight Residences apartments.
Boa will tie up the space on a seven-year lease. They'll fill the first two floors, and Zeppelin will build about 40,000 square feet of small speculative office suites in floors above Boa's headquarters.
Boa sells a fastener that replaces traditional shoelaces with a wire a dial that twist one way to tighten shoes or boots and the other to loosen them. The brand struck a deal with Under Armour last year to put its products on a heavy-duty outdoor boot, and the company's products can also be found on inline skates, medical braces, golf shoes and prosthetic limbs.
The company first moved into Taxi in 2012 with about 55 employees. Now they're sitting at more than 140. Zeppelin said Boa has increased revenue at a 30 percent to 40 percent clip for the past few years.
Boa's space will have higher ceilings than a typical office building to allow for some manufacturing and research-and-development work. Flight will also have a 100-bike storage facility, a 13,000-square-foot green roof and a solar array to provide about a quarter of the building's electricity.
With Boa taking the building's first two stories, Zeppelin is looking for smaller firms to fill up the remaining 40,000 square feet.
Kyle Zeppelin said he plans to cut that space up into walled-off, 500-square-foot offices for companies that like to be around other firms but could do without the hubbub that often comes with a shared office space. He's advertising those suites at about $30 per square foot.
"The incubators do their incubating, but then there's a certain percentage of firms that grow into a more dedicated space," he said. "Coworking is great. But once a company is on its feet, they need to be able to close a door and have a private conversation."
UMB bank is financing the Flight project. Dynia Architects designed the building, and Vertix Builders is the general contractor.
Once Boa taxis over to its new home in fall 2017, it will leave almost the entire Drive I office building vacant. Zeppelin said his firm will begin marketing that space shortly, and will shoot for about $30 per square foot to backfill Drive I.
"Boa's existing space will take a couple of months for a build out before it will work for the next generation of companies," he said. "But it will be pretty universally appealing with large glass garage doors and open floor plans."
Flight is taking off as Zeppelin works on a new affordable housing building at Taxi; the Source Hotel on Brighton Boulevard; and a 100,000-square-foot office building called Zeppelin Station (formerly Gauge) at 35th and Wazee streets.
Back at its 25-acre Taxi site, Zeppelin said he still has a few ready-to-build sites, and could eventually reconfigure the properties several surface parking lots to make room for more down the road.
For the near future, Zeppelin wants to build more places for people to live at Taxi.
"With this building we'll have 400,000 square feet of office and there will be 120-plus firms," he said. "It's likely that the next phases of the development will be residential-centric."
Then again, he said, that could change if another Boa deal comes along.
"Kind of our plan is not to have too much of a plan," he said. "We have ideas for building forms but want to build around needs in the market, or tenant plans, we can build around to accommodate their growth."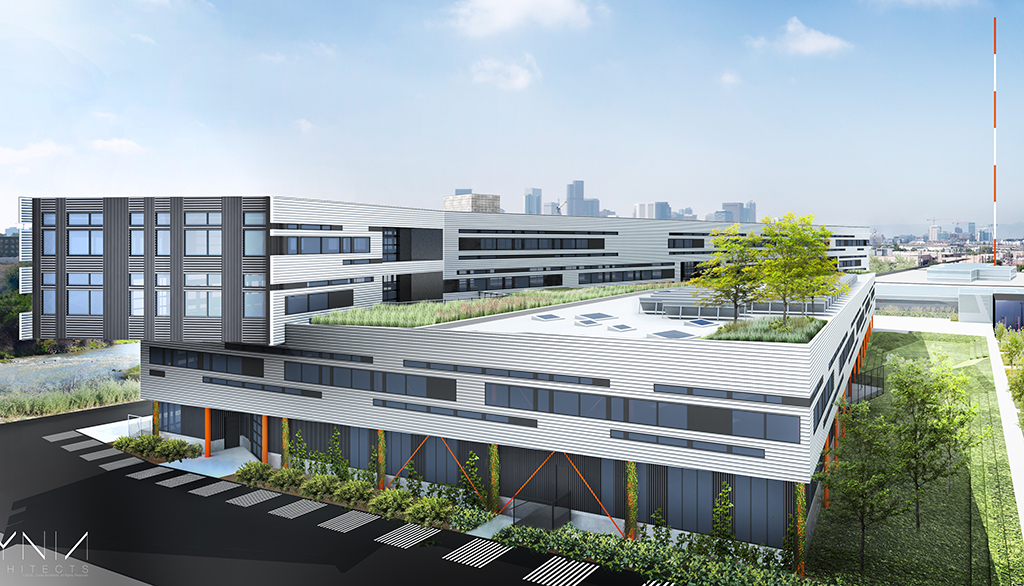 11461