Brighton Boulevard is all traffic cones, cranes and construction equipment today.
And OZ Architecture, which is designing several of RiNo's myriad new developments, thought that was becoming a problem.
"What's been a little tough for our developers working on these sites is explaining what the area will be in the future to potential investors, or anybody else looking at it," said managing principal Rebecca Stone. "It was difficult to show that it wouldn't be a single project amidst empty junkyards."
So OZ's team drew up a rendering, released this week, of what RiNo should look like in four years, assuming the neighborhood's many development projects move through the pipeline as planned.
OZ's rendering shows what construction sites like Zeppelin Development's Gauge office building and Source Hotel, Elevation Development's Hub office-and-hotel project, and a few apartment buildings along Brighton Boulevard will look like once finished.
The drawing also highlights developments yet to come like including the Revolution 360 office building at 36th and Brighton; a micro-apartment building by McWhinney at 36th and Wynkoop; and at least three new buildings on the Giambrocco Food Services site.
Stone said the RiNo mapping project was initiated by Tom and Brooke Gordon, the development team behind the Drivetrain mixed-use project on the 3300 block of Brighton Boulevard.
And while the drawing highlights upwards of 20 projects currently in the works, Stone said development might have already outpaced the glossy new rendering.
"We've already had people calling in to ask if we could add projects," she said.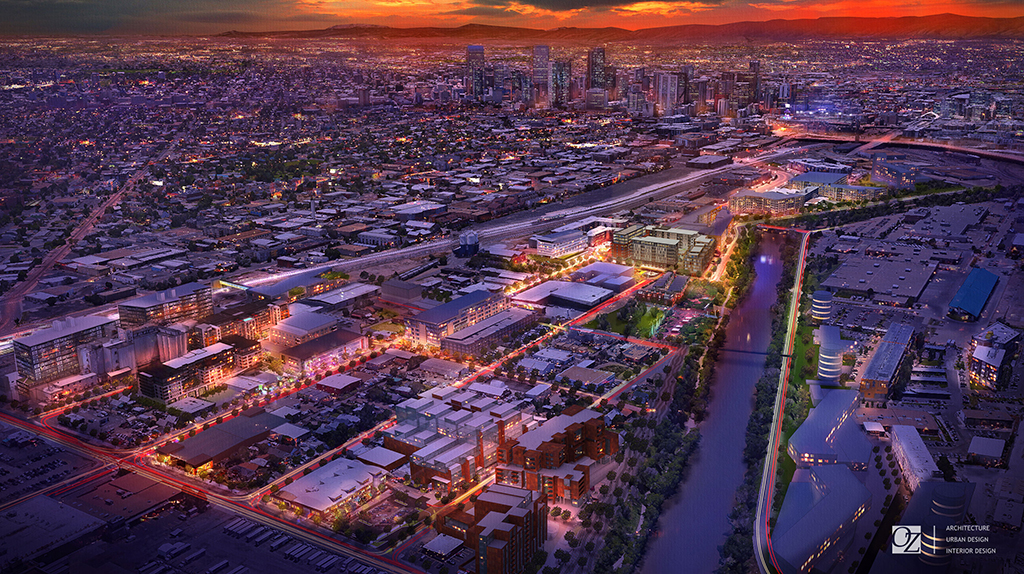 11170