There's a million-dollar upgrade brewing at one of Denver's oldest microbreweries.
Wynkoop Brewing Co. is spending $1 million to replace the fermenting system that Colorado Gov. John Hickenlooper and his crew installed in the LoDo institution nearly 30 years ago.
"The building here is over 100 years old," said Jon Hanke, Wynkoop sales director. "One of our pipes broke a while back and we fixed it and continued to brew, but we realized that it was time to upgrade with a new system."
The project, which began in December, will wrap up in mid-March, Hanke said, with renovations to the plumbing and electrical systems, and some construction.
The brewery hired Denver-based Howell Construction to perform the renovations and Boulder-based architects Coburn Partners for help with design, Hanke said.
Wynkoop's new brewing system will include three new 20-barrel fermenting tanks and six 10-barrel fermenters, and a new grain and malt handling system.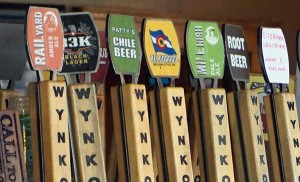 The new fermenters feature a fully closed and sealed brewing system, an improvement over Wynkoop's current open-top fermenting setup, Hanke said.

"Open-top fermentation is a great way to make beer but with the climate in our building, it's hard to control," he said. "Having a sealed system will give us tighter control over factors in our beer like taste and body. It's especially important with lighter beers."

The new brewing system will allow Wynkoop to churn out 50 percent more beer than it is now, from 4,000 barrels per year to between 6,000 and 7,000, Hanke said.

Wynkoop also is purchasing Breckenridge Brewery's former canning line, Hanke said, which will help the company sell more beer outside of its taproom. Hanke estimated that the canning line's implementation will bring revenue from canned beer to the same level as beer sold in-house.

The brewery is researching resale value for its old equipment, Hanke said. Ideally, Wynkoop can sell the gear to another brewery to offset the costs of renovations.

The renovations were a year in the making, Hanke said. Wynkoop began planning the project last spring and ordered the equipment in June.

Construction began in December when Wynkoop shut down its brewery, relying solely on beer that it  already had made to float it until the renovations are complete. The company also contracted Sleeping Giant Brewery (which opened early last year) to churn out its beer in the meantime.

Hanke said that the company hopes to have construction finished in March and to be brewing by the first week of April, in time for the Rockies' opening day game on April 8.

Hickenlooper founded Wynkoop Brewing Co. in 1988 with business partners Jerry Williams, Mark Shifler and Russell Scherer, according to the company's website. Hickenlooper no longer holds any stake in the brewery. It's now owned by Denver-based investment group BW Holdings, a joint venture entered into by Wynkoop and Breckenridge brewing companies.

BW Holdings also owns Denver restaurants Ale House at Amato's, the Cherry Cricket and Breckenridge Colorado Craft. Those restaurants, as well as the Wynkoop brewery, were not included in AB-InBev's acquisition of Breckenridge Brewing Co. earlier this year.

7718