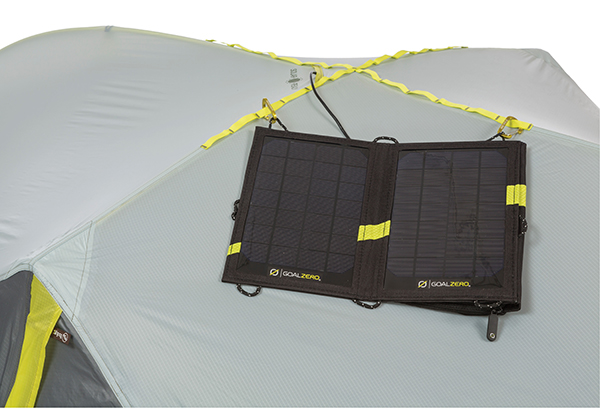 A Steamboat Springs tent manufacturer thinks all that sun beating down on your tent during a rest day can be put to good use: charging your tent's lights. Or a phone, if that's how you camp.
Big Agnes lit up the industry last year with a line of tents that include LED lights sown into the fabric. And now it's releasing solar-powered tents that can charge a phone.
"Like it or not, people are bringing their technology into the backcountry," said Len Zanni, Big Agnes' co-founder. "Someone's going to enable them to use their gear there, and we wanted to be the ones to do it."
Big Agnes will debut two solar-powered tents in April as part of its spring 2016 product line: the Krumholtz UL2 and the Red Canyon 4.
Both tents come standard with built-in LED lights made by Big Agnes and solar kits from a New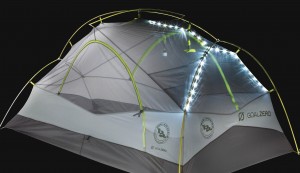 Jersey vendor that include solar panels, a chargeable battery, fan and lantern. The battery holds enough power to charge a mobile phone twice, and gets charged from five hours of direct sunlight or four hours in an outlet.
The solar panel charger can be attached to the tent exterior or any other spot that will be in the sun.
The Krumholtz, which retails for $650, is intended for ultralight backpackers, Zanni said. It's the next incarnation of Big Agnes' MtnGLO tents, the first tent to feature LED lights sown into the fabric, which the company released year. The tent fits two and weighs almost five pounds, according to Big Agnes' website.
Zanni said Big Agnes designed the Red Canyon 4 with a casual camper in mind. The tent, which retails for $700, weighs 14 pounds and sleeps four campers. A similarly sized tent without the solar charging kit costs $500.
Because the solar kits weigh 1 1/2 pounds, Big Agnes designed them to be removable in case a camper wants to shed extra weight. This is especially important for the Krumholtz, which likely will be attractive to backpackers because of its light weight.
"We had to figure out how you get a weatherproof tent port that you can also hang a solar panel on, complete with ways to run the wires through the tent," Zanni said. "That was a challenge. This has been in development for almost two years."