Add a hotel to the long list of new LoHi developments.
St. Charles Town Co. is planning a 162-room hotel near 16th and Boulder streets. The $65 million project will be the first hotel the Denver-based development firm has built, said Charlie Woolley, president, St. Charles Town Co.
"We analyzed building an apartment building three years ago, we analyzed an alternative of an office and retail development, and we even thought briefly about condominiums," Woolley said. "But reflecting on the zoning and what's happening at that intersection, it seemed we could really cement the core of Lower Highlands by doing a hotel and a really active ground floor."
The hotel will go up at a roughly 0.8-acre site at 2525 16th St. The property currently hosts the SR International Business Center office building and about three smaller buildings on four parcels.
St. Charles Town Co. bought the bulk of the site, a 0.68-acre parcel with a 14,000-square-foot office building, for $3.7 million in 2013. That building will be cleared to make way for the hotel.
Plans call for 162 guest rooms that Woolley estimated would rent in the neighborhood of $250 per night.
"We're looking at the comparable hotels," he said. "It will be a four-star-plus hotel so the rates will be in that range."
The hotel will include meeting rooms, a restaurant and a rooftop pool deck and lounge with city views. The property also will include a parking garage and leasable ground-floor retail space that Woolley said will be aimed at residents as well as hotel guests.
Woolley hopes to start construction at the beginning of next year and have the hotel open by summer 2018. The property will be an independent brand, Woolley said, but he declined to go into detail about the concept.
"We want to make this place about Denver and about Colorado," Woolley said. "So that when a guest of a visitor comes to our place, they'll say, 'This is what Denver is all about.'"
St. Charles Town Co. will open the hotel under a franchise agreement with Starwood Hotels and Resorts. The hotel will be part of Starwood's "Tribute Portfolio," a collection of independent hotels that thus far includes 14 separate properties.
Denver-based Semple Brown Design is the architect for the hotel. Woolley has not yet finalized a general contractor nor bank financing.
The St. Charles Town Co. development will make it at least two hotels under construction in the Highlands. Local hotelier 5280 Suites is building a new Fairfield Inn and Suites at Wyandot Street and 27th Avenue.
St. Charles Town Co.'s previous development work in Denver includes the Los Altos de Alameda apartment building, the 2500 Walnut Lofts and the Hardware Block building at 1527 Wazee St. Last year the firm built the Zephyr Lofts apartment building in Lakewood.
As residential development continues to grow in the Highlands, Woolley said the idea to build another apartment building on the 16th Street site still crosses his mind. He speculated he probably could have had an apartment building finished six months ago if St. Charles Town Co. went that route.
But Woolley hopes the hotel will bring something different – and more lucrative – to the neighborhood.
"It gave us time to really think about what was a more ambitious, but also I think a more profitable alternative," Woolley said. "I think we'll do better with the hotel and there aren't any more big sites on this fringe of town."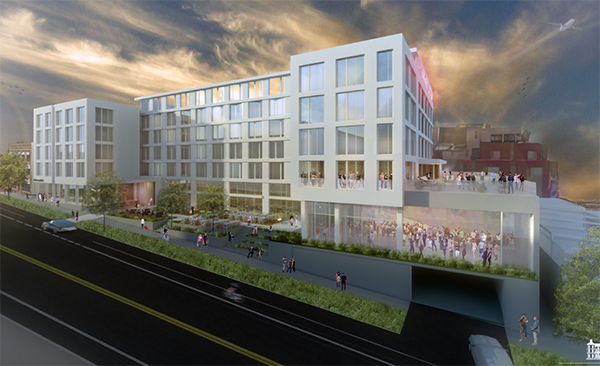 7626