Renting a Union Station apartment for less than $1,000 a month won't be just a fantasy in coming years.
Integral Group threw a groundbreaking event Thursday for its Ashley Union Station, a $30 million, 107-unit apartment building. It's the only affordable housing project in Union Station and has 68 apartments set aside for renters making 40-60 percent of the area's median income.
"It's important in areas like this, where there is no lack of housing, restaurants and transportation, to step in and provide housing for lower-income workers and those on fixed incomes," said Vicki Lundy Wilbon, Integral's president of community development. "It's a sustainable project financially and delivers what the neighborhood needs."
Ashley Union Station sits on a 1.1-acre site at the eastern corner of 18th Street and Chestnut Place. Integral bought the plot for $3.25 million in November 2013, city records show.
Of the income-based units, 34 will be reserved for renters making 60 percent of the area's median income. Another 34 will be reserved for renters making no more than 30 percent of the median income figure.
The remaining apartments will rent at market rates.
Using 2015 figures from the Colorado Housing and Finance Authority, one-person households would have to make less than $33,600 per year to rent one of Ashley Union Station's affordable housing units. A two-person household could make up to $38,400 and still qualify.
Rents for one-bedrooms at Ashley Union Station would be capped at $900 based on this year's numbers. A two-bedroom apartment could rent for as much as $1,080 and three-bedroom units would top out at $1,246. Wilbon said Integral has yet to determine prices for the market-rate apartments.
The city and county of Denver is pitching in $2.3 million from its General Fund and a $950,000 loan from the Inclusionary Housing Ordinance special revenue fund to help build Ashley Union Station. Denver Housing Authority paid $2.75 million to fund the land acquisition.
Financing partners also include the Colorado Housing and Finance Authority, the Colorado Division of Housing and Enterprise Community Partners.
RNL Design is the architect on the Ashley Union Station project. I-Kota Construction is the general contractor.
Integral's past work in Denver includes the Villages at Curtis Park apartments and the Eviva Cherokee tower on the rise in the Golden Triangle.
Union Station is already one of Denver's busiest neighborhoods for construction. Ashley Union Station shares a block with a $100 million hotel and office project and sits a block over from the 580-unit Pivot apartment complex.
East West Partners is developing 265,000 square feet of office space at 2001 16th St. and 340 condos at 1700 Wewatta St.
But with high-end hotels, offices, apartments and condos sprouting up all over Union Station, Mayor Michael Hancock said getting workforce housing into the fast-growing neighborhood was a high priority.
"The fact that we're in the heart of downtown, where people said it couldn't be done, is phenomenal," Hancock said.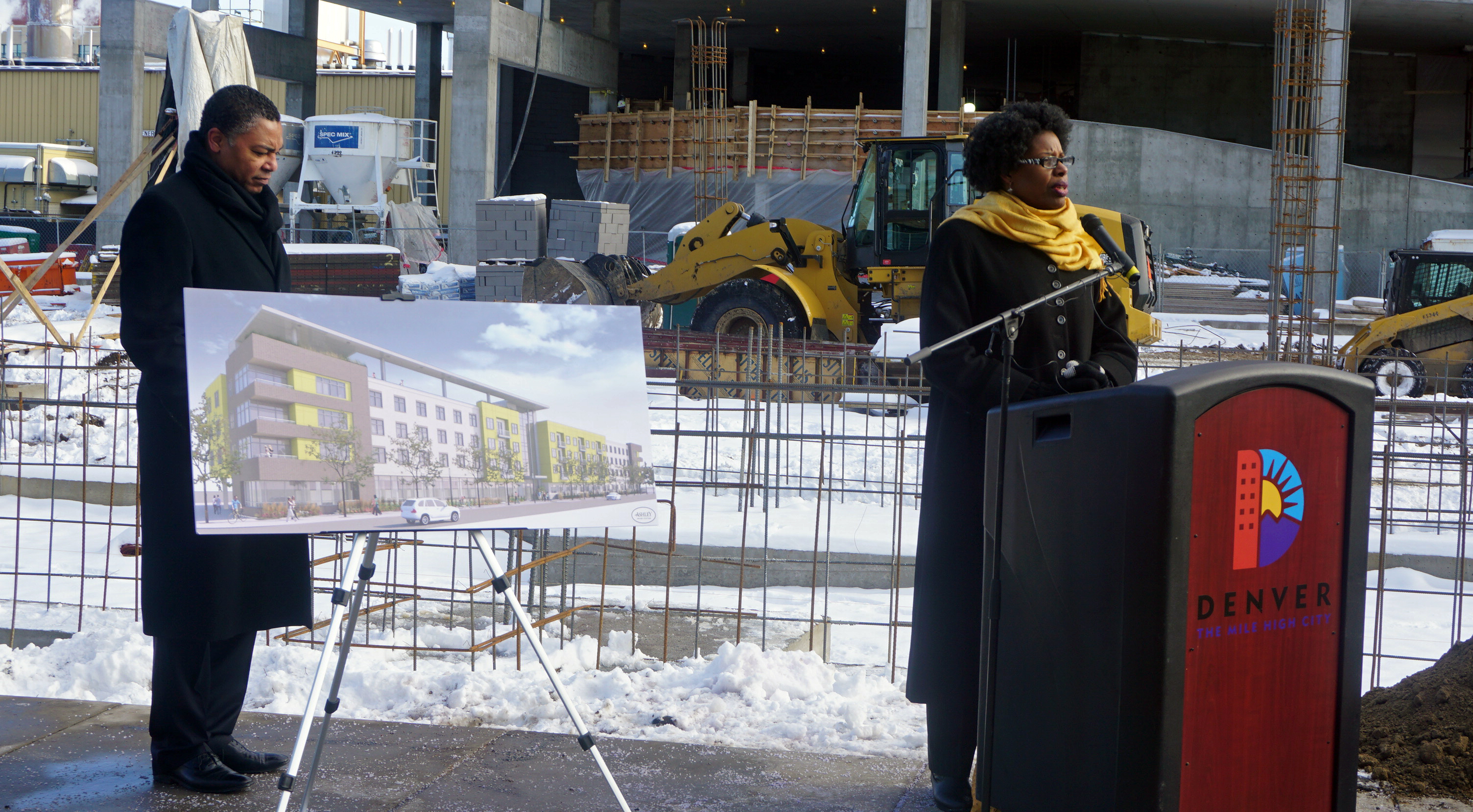 6531