Mother Nature won the first round, but Josh Sampson is coming back even bigger after a flooded RiNo building forced him to close his weekend food and music party.
The Friday Night Bazaar, which Sampson started in a warehouse at 3530 Brighton Blvd. in March, will reopen in a new drier digs tonight.
"We had a flash flood during all those big rains (in June), like 9 inches of water came through and shut the event down," said Sampson, a Brooklyn native who brought the idea to combine a flea market, food festival and live music venue to Denver when he moved here in 2014.
The Night Bazaar Denver will reopen its doors tonight at 5 p.m. in a 5,000-square-foot warehouse at 2450 Larimer St. The Bazaar will run out of that location until this spring at least.
"The (old) building couldn't handle the water and didn't recover from it," Sampson said. "We just started looking for a new location and this one popped up."
The time off has given Sampson time to revamp the event as a retail-focused indoor market open seven days a week.
The Bazaar will run from 5 p.m. until 2 a.m. on Fridays and Saturdays and from 11 a.m. until 9 p.m. from Sunday to Thursday. It'll serve alcohol on Friday and Saturday nights.
Sampson said he used New York's Chelsea Market as the inspiration for the latest incarnation of the Bazaar. It'll feature 18 permanent Colorado vendors selling items including jelly, jewelry and bikes. Five food trucks parked outside of the new location will feed attendees.
Sampson said he was introduced to his new landlord through mutual friends.
The Bazaar's former location, a 5,400-square-foot former mechanic's shop, hosted an average of 30 vendors and 1,000 weekly visitors, Sampson told BusinessDen in April.
But the new location isn't the only change at the Bazaar. Sampson said that a second Night Bazaar will be a permanent tenant in Stapleton's Stanley Marketplace when the Aurora project opens next summer.
Samspon's The Big Wonderful event will be expanding next year, as well. The festival will return to its home at 2500 Lawrence St. next year in spite of the Denver Housing Authority's plans to redevelop the property into housing, Sampson said.
The BigWonderful will also expand into two new locations: Littleton and a 2-acre area around the Stanley Marketplace that will also serve as an urban farm.
But with a new outdoor location, Sampson will be further tempting the rain gods.
"Out of the 25 weekends we had the Big Wonderful, 11 of them were rained out," he said. "With the Friday Night Bazaar, we got crushed by the weather. That's our No. 1 problem and there's nothing anyone can do about it."
Last year's Big Wonderful drew between 2,000 and 3,000 weekly visitors and racked up about 40,000 attendees over its three-month run, Sampson said.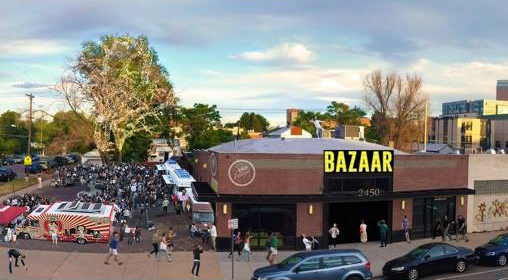 4962