Native Campervans co-founder Dillon Hansen has noticed his customers' itineraries change to local destinations.
In years past, Native customers often traveled to faraway places, like Yellowstone or Banff, Canada. Today, however, many never even leave the state.
"(The customer is) not picking up in Denver driving to Yellowstone, per se. They're keeping it a little bit more local and keeping it more Rocky Mountain National Park, Aspen, Vail, Great Sand Dunes," Hansen said. "So, a little more localized."
Colorado is a hotspot for "vanlife," a culture centered around living and traveling scenic areas in an outfitted vehicle. But high gas prices along with other economic pressures have affected both customers and companies within the industry.
Colorado gas prices — nearly $5 a gallon for regular and roughly $5.50 a gallon for diesel — are eating away at van companies' margins, causing businesses to rethink their strategies.
Hansen says it's all about being flexible. Over the past two months, for example, his company, which rents out outfitted vans, offered $100 gas credits to customers. As a result, bookings have maintained pace with pre-pandemic levels despite a brief slowdown in the spring.
Native's website says that rental prices range anywhere from $69 to $299 a night based on mileage package, length of trip, van size and season. The company has three types of vans that seat and sleep either two or four people. "The Biggie" and "The Squad" average 18 miles per gallon, while "The Small" averages 25 miles per gallon.
Hansen said the smallest van has become "exceedingly popular" due to its higher gas mileage. But he said traveling by van remains a bargain compared to the alternatives.
"If anyone would want to go to visit the national parks, they'd be required to fly into said state, get a rental car and then book hotels and motels throughout the duration," he said. "Hotels in Yellowstone over the years are $300, $400 a night. So, we find this still a very economical way to get outside and adventure now."
While his customers are impacted by gas prices, Hansen said he's more impacted by inflation.
He said it's costing roughly 20 to 25 percent more to purchase his vans, and he has seen Native's margins cut slightly due to rising product prices.
To offset this effect, Native has bolstered its fleet with more vans to increase the company's revenue. The business also plans to unveil a new product line soon, although he declined to disclose details.
The average trip duration for a Native customer has increased, too, usually one extra day when compared to years past. The overall average trip duration is 7.1 days, Hansen said.
Another company in the Denver vanlife industry is Vanlife Customs. It specializes in outfitting vans purchased separately by customers and making them into livable spaces. Like Native, the company has experienced challenges with inflation and gas prices.
In their most recent shipment of fabric used in the van's upholstery, for example, Vanlife Customs saw a 4 percent fuel-related surcharge on the shipment, owner Dave Walsh said.
"It's going to drive our prices up," Walsh said.
The average build for Walsh used to cost $65,000 to $70,000. Now that price is closer to $85,000 to $90,000 – a roughly 30 percent increase.
Even with the higher prices, though, Walsh hasn't lost business.
"We haven't seen any cancellations. In fact the entire time that we've been in business for seven years, we haven't ever had anybody cancel," he said.
Diversification has been a strategy employed to offset rising costs. Walsh said that he's invested in three extra bays in the company workshop for repairs and smaller projects, such as putting a window on your van.
Also, Walsh and Vanlife Customs plan to start offering more affordable semi-custom builds for customers, starting at around $70,000.
"It's the same quality and parts that we're putting into the custom vans," Walsh said. "The difference is we're able to offer a quicker turnaround. We're able to offer a better price because we can order our parts a little bit more bulk versus just a one off."
But even if Walsh can afford to pay for the shipment of goods, getting them to arrive in the U.S. is another challenge.
Right now, the biggest slowdowns for Vanlife Customs are exterior products. Aluminum bumpers, which are handmade, have a lead time of up to 12 weeks, Walsh said. Other backups in parts like suspension upgrades pose additional challenges.
And then there's Baltic birch, a type of wood from the Baltic region in Russia. The ongoing Russian invasion of Ukraine makes shipping the product incredibly difficult.
"Never did I think my small van company would be impacted so much by a war in Ukraine," Walsh said.
Shipping has also been a major issue for Cameron Wyatt, co-founder of Dirtbag Vans, a small Denver-based company that sells vintage imported vans from Japan.
Wyatt said that the cost of shipping vans from Japan to California has nearly doubled. Shipping from California to Colorado has increased by about 33 percent, he added.
Cameron founded Dirtbag Vans back in 2019 with his brother, Tuner. The duo took an interest in the Mitsubishi Delica, a van that was sold primarily overseas.
Inflation, as well as an increase in competition for available Delicas, has caused the fledgling company to raise its prices, but Cameron has to walk the fine line of turning a profit while keeping costs reasonable for consumers. Right now, he said his lowest-priced van is $14,500, while the highest is $22,000.
On average, Cameron said the vans cost him between $10,000 and $12,000, including shipping and repairs.
"It is definitely not as profitable as I expected, but it definitely still looks like I'll come out on top," he said.
Cameron also spends time living out of his own truck camper in Denver, splitting time between there and San Francisco where he has an apartment.
"When I first came out to California, I brought the camper with me. And then not long after that, gas prices just shot up. And I just felt like I couldn't go anywhere," Cameron said. "So, instead of using it in California for little weekend getaways and exploration, I just brought it back to Denver and just left it there. So, I'm limiting my travel because gas is so expensive, and I'm staying put longer than I normally would."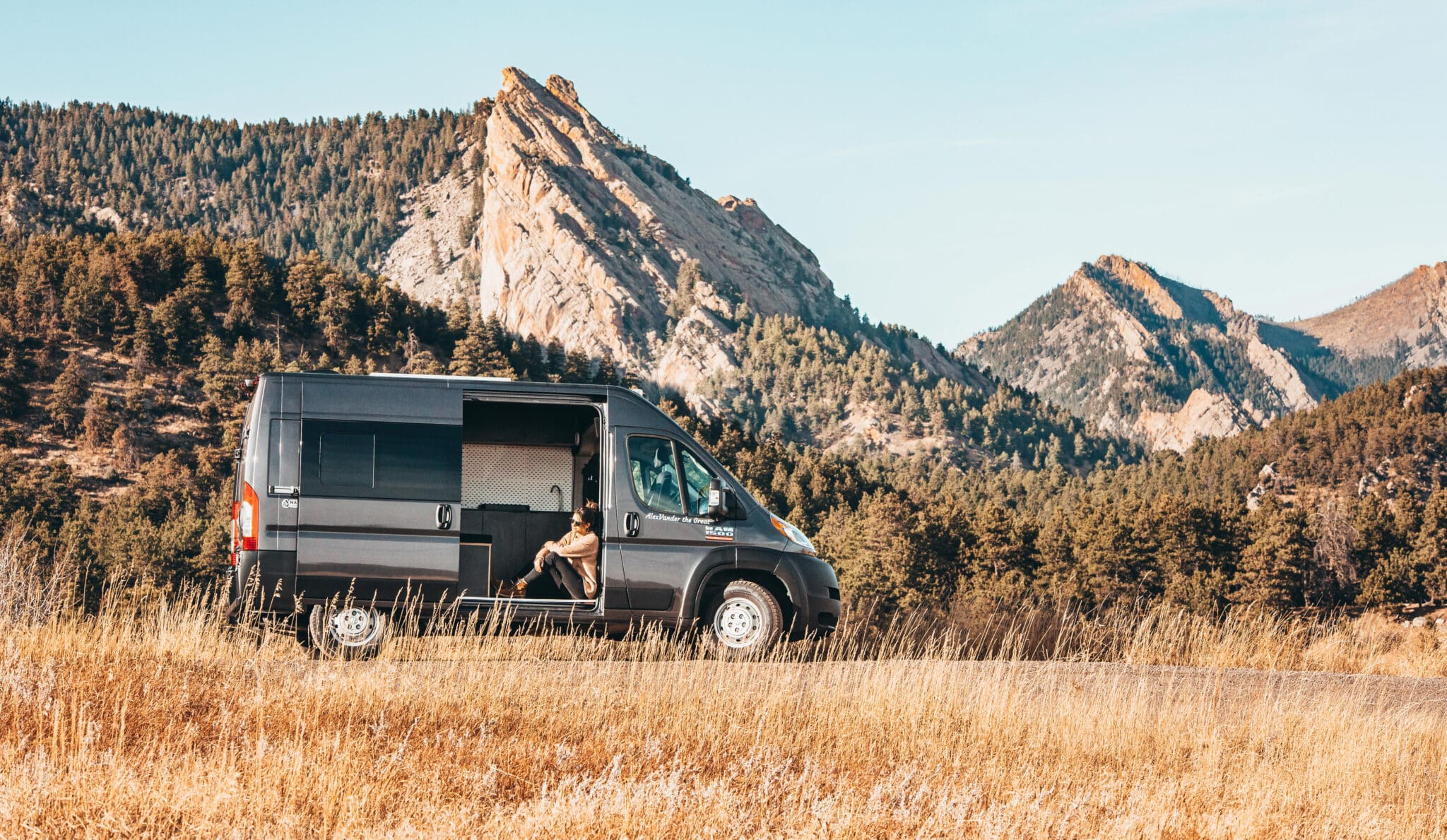 111244