Soona has raised its largest funding round after a banner year in 2020.
The Denver-based startup, which operates studios that provide businesses with professional photos and videos within 24 hours, raked in $10.58 million this month.
"This is indicative of the rapid growth we've seen over the past year," co-founder Liz Giorgi said. "The company grew 400 percent in baseline revenue, which far exceeded our expectations, and our investors felt we needed more capital to accelerate the success we've seen so far."
Since its December 2018 launch, Soona has raised a total of $15.4 million, according to SEC filings. It most recently raised $3.4 million in February 2020, which was its previously largest round.
The $10.58 million funding round was led by New York-based Union Square Ventures with participation from 22 other investors, including Denver-based Range Ventures.
Soona plans to use the funds to build a new 10,000-square-foot studio in Minneapolis, double its staff of 50 by the end of the year and build out its new technology, according to Giorgi.
When the pandemic hit, Soona was forced to shut down its studios as a non-essential business in Denver, Minneapolis and Austin. The company first opened its 2,200-square foot space at 1235 S. Broadway in April 2019.
But rather than waiting for a sense of normalcy, Soona decided to accelerate the launch of its "camera-to-Cloud" technology and allow clients to access its services online.
"We had planned to launch the technology in the next two years. But the pandemic forced our hand, and we ended up having to get it done in two months," Giorgi said.
Before, clients in Denver, Austin and Minneapolis would have to visit a studio in-person and have access to an iPad, which contained a live feed of the photo or video shoot.
Now, after launching its online portal in May, Soona can offer real-time content creation services to clients from around the world. Rather than visit the studio in-person, businesses can now access a live feed of their photos and videos as they are being shot in the studio and provide feedback through Soona's website.
For virtual shoots, brands send their products to one of Soona's three studios or an at-home photographer. Around 25 percent of its creative staff works from home, according to Giorgi.
When BusinessDen spoke to Giorgi in February 2020, Soona had 1,000 clients. Since then and with the virtual access addition, the startup's client base has grown to 7,000 businesses, including Denver-based Sheets & Giggles and Boulder-based I and Love and You Pets.
Giorgi said 90 percent of its business has moved online.
"We're serving an international audience now and have customers in Australia and Israel," Giorgi said.
Photos start at $39 each and videos start at $93 each. All content is available to purchase 24 hours after the shoot. Giorgi said the company plans to introduce a subscription option this summer.
Soona's second studio in Minneapolis will be dedicated to its digital fulfillment, according to Giorgi. The company still offers in-person photo and video shoots in its other studios, which reopened to the public in February after nearly a year of appointments only.
Soona also plans to soon expand into an extra 2,000 square feet in the same building it occupies on South Broadway.
"There's already some warehouse space underneath it, where we're doing virtual shoots right now and will continue to expand," Girorgi said.
Giorgi founded her first company, Mighteor, in 2014 as a production business, which was acquired by Portland-based Standard.TV in November. There, she met Hayley Anderson, Soona's chief operations officer, and the two went on to launch Soona as a way to help small businesses get visual content at an affordable price in 2018.
"The traditional production model puts clients in a closed box," Giorgi said. "The photographer can take a bunch of photos, but then you're really just crossing your fingers and hope you get exactly what you want. We provide our customers with transparency and the ability to collaborate with the photographer in real time to get them closer to what they want. And in doing that, they're able to be more creative."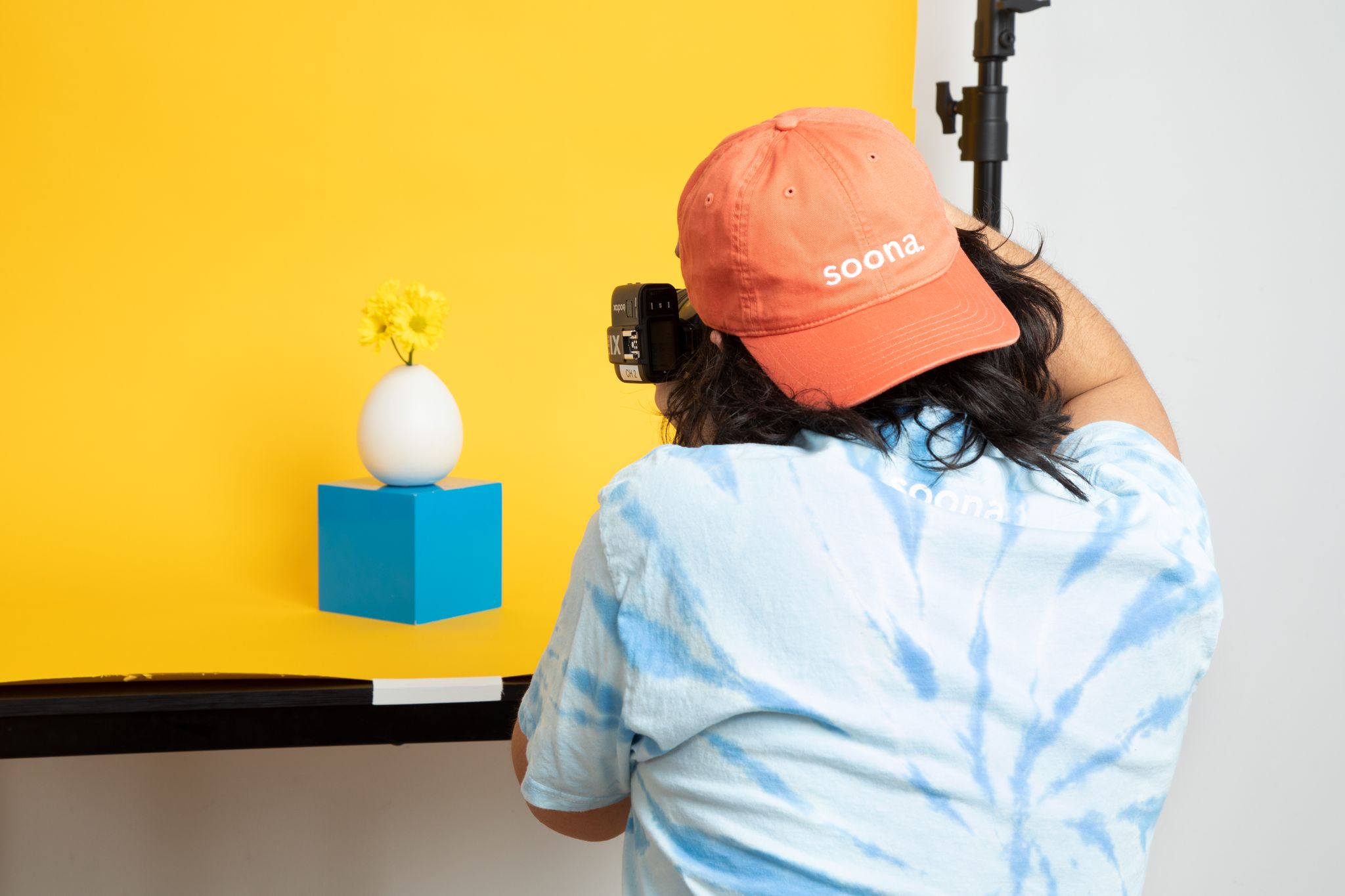 104091