Plenty of new apartment complexes in Denver aim to lure residents with a nice pool.
But only the forthcoming X Denver complex in Union Station North thinks its amenities are so good that people who live elsewhere will want to pay $275 a month for access.
"It eliminates the need for a gym, it eliminates the need for a social club, it eliminates the need for your WeWork membership," said Noah Gottlieb.
Gottlieb is the CEO of The X Company, the Chicago-based developer of X Denver. The 12-story complex at 3100 Inca St., which has 813 beds across 455 units, will welcome its first residents later this month.
The X Company, which was spun off from New York-based Property Markets Group, "does a few things completely different than the average apartment complex," Gottlieb said. In addition to offering memberships to non-residents, that includes setting aside units for "co-living," an arrangement that is designed to mitigate the pain points that typically come with having roommates.
The X Company also has complexes, either open or in the works, in Chicago, Oakland, Phoenix, Tampa and Houston. And for now, Gottlieb said, it's not looking for additional cities, preferring to focus on those.
The company's second project in Denver is already underway; it broke ground late last year. And the company is under contract to buy a third site.
Gottlieb spoke with BusinessDen last week about X Denver and the company's future plans.
Co-living: Sixty percent of the units at X Denver are studios and one- and two-bedroom units. Those are leased in the traditional way.
The remaining 40 percent of units have three or four bedrooms, and are set up for co-living.
In some ways, that's just a new term for having roommates. All co-living tenants have their own bedroom and bathroom, then share common areas with the two or three other people in their unit.
But at X Denver, co-living means the units are entirely furnished, including a television in the living room and pots and pans in the kitchen. The complex provides bi-weekly cleaning of the unit's common areas. And tenants are responsible for just their agreed-upon rent. They pay the same amount even if other bedrooms in their unit aren't occupied, and they don't get dinged if a roommate doesn't have the cash.
Gottlieb said people getting into roommate situations typically stress about three things. Who gets stuck doing the cleaning? What if someone doesn't pay their share? And what if you just can't stand a roommate?
The provided cleaning takes care of the first problem, Gottlieb said. The lease structure alleviates the second. And if you clash with someone in your unit, X Denver is happy to move you to a different co-living apartment.
Speaking in early February, Gottlieb said the company had about 30 signed leases in January. The first tenants will be able to move in Feb. 26.
"80 percent of our interest is in the co-living," he said.
Co-living isn't intended to be a short-term situation, Gottlieb said. Tenants still signed long-term leases. The typical X Company tenant, whether in co-living or a traditional unit, is a young professional in their early 30s, he said.
A lease within a co-living unit starts at around $1,000 a month. The priciest one bedrooms in the building top out around $2,000.
Amenities: The pool at X Denver is on the rooftop, next to a bar. There's a 30-person jacuzzi and fire pit.
In addition to having the usual exercise equipment, the company's gym includes a studio, where multiple instructor-led classes are held each day.
And the complex has about 11,000 square feet of coworking space, which includes hundreds of workspaces and private offices, Gottlieb said.
"We recognized several years ago that the work-from-home environment … was going to be very important long-term," he said.
Those who live in the building will have access to all of the above, of course. But the complex also offers access to the building's non-residential space for the aforementioned $275 a month.
The building wants to maintain a certain vibe, though. Members have to be between 22 and 45, Gottlieb said. And you can't bring children with you. Perspective members can apply on the complex's website.
What's next: Work is already underway on The X Company's next complex in Denver.
Gottlieb said the company broke ground in late November on X Denver 2, a 21-story project going up in the 2100 block of Arapahoe Street. It will have 641 beds across 410 units. Construction is expected to take 18 months. Katerra is the general contractor.
Development plans previously reported on by BusinessDen referred to that project as X Denver 3. That's because the X Denver complex, which consists of two connected structures, was originally designated as X Denver and X Denver 2.
The Arapahoe Square building will have similar types of amenities as X Denver, Gottlieb said. And residents or members of both buildings will be able to use the coworking space, pool or fitness classes at either one.
And The X Company isn't stopping at two. Gottlieb confirmed the company is under contract to buy the parking lot at 2000 Welton St. It has proposed an 18-story, 409-unit structure at the site.
"The more projects we can create, the more powerful the network of those buildings becomes," he said.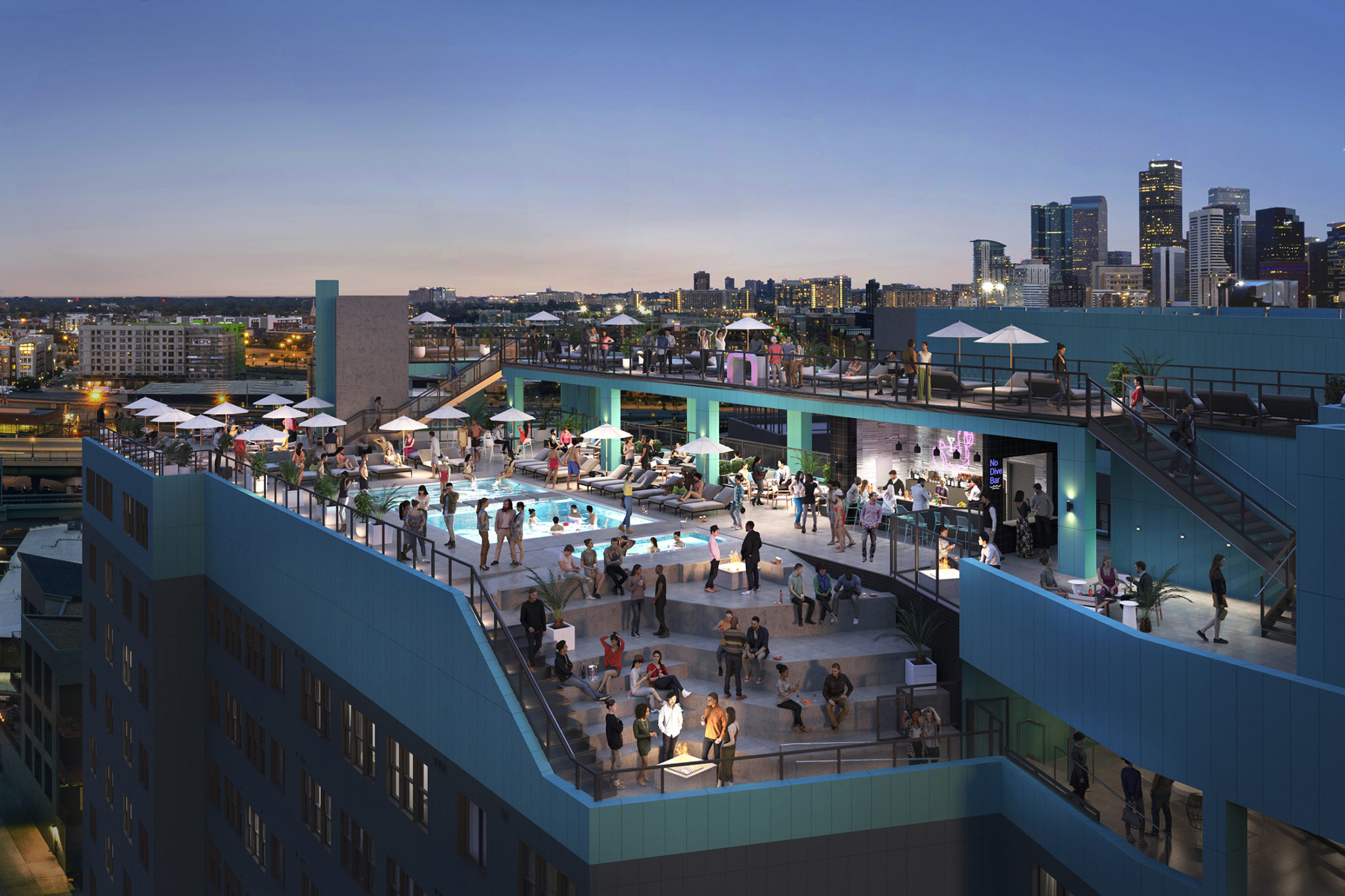 101975