That 67-page Good Neighbor Agreement paid off.
A rezoning request by Denver's McKinnon & Associates for two long-vacant sites at the eastern edge of Cherry Creek sailed through the Denver City Council last week, after the developer hammered out an unusually detailed documentwith nearby residents.
The council voted unanimously Sept. 28 to change the zoning for the northwest and southwest corner of Colorado Boulevard and Bayaud Avenue, as well as the northwest and southwest corner of Colorado Boulevard and 1st Avenue.
The change allows for a maximum of five stories to be built, from three before. But the investor group led by Doug McKinnon's firm, which purchased the sites in April 2019, has committed to build only four stories.
It's one of numerous details specified in the Good Neighbor Agreement, along with a minimum unit size of 900 square feet for apartments or condominiums, a prohibition against bicycles on balconies and a commitment not to lease commercial space to dental clinics, among other things.
Speaking to the council last week, McKinnon and heads of two neighborhood associations indicated that reaching that agreement was somewhat laborious, with numerous meetings.
The end result, however, was that by the time the proposal reached the council, no one spoke in opposition.
"There's a strong bias not to approve more than three stories in our neighborhood," said John Tredennick, president of the Cherry Creek East Association. "That probably won't surprise you. But we always listen to developers and their proposals and that was the case here."
Councilman Chris Hinds, who represents the neighborhood, said McKinnon originally wanted to build five stories.
"I think it's interesting and compelling to show that there was a compromise made at four stories," he said.
McKinnon has also committed to make at least 10 percent of residential units developed at the sites income-restricted for 60 years, according to city documents.
If the units are rented, half of that 10 percent would be restricted to those earning up to 60 percent of the area median income, with the other half restricted to up to 80 percent. If the units are sold, half would be restricted to 80 percent AMI and half to 100 percent AMI.
Despite their location in one of Denver's poshest neighborhoods, the corners have languished for years. In part, that's because they're on a block that is half the normal size.
"When I began this acquisition, what I was looking to do was fix what I felt was a very anomalous situation," McKinnon told the council. "You have four very distinct parcels on the eastern edge of Cherry Creek that represent very real gateway opportunities. We worked very hard to understand the real challenges. There were some very real geometric challenges to the site with the existing zoning."
Earlier in the rezoning approval process, a Planning Board member said "nobody should have to record a 67-page developer's agreement to get agreement on whether or not something's acceptable to the neighborhood."
But council members liked the specificity.
"A lot of the work in development — the devil's in the details," Councilwoman Amanda Sandoval said. "This good neighbor agreement, there's tons of details in here. So thank you for providing this document for future rezonings in Denver."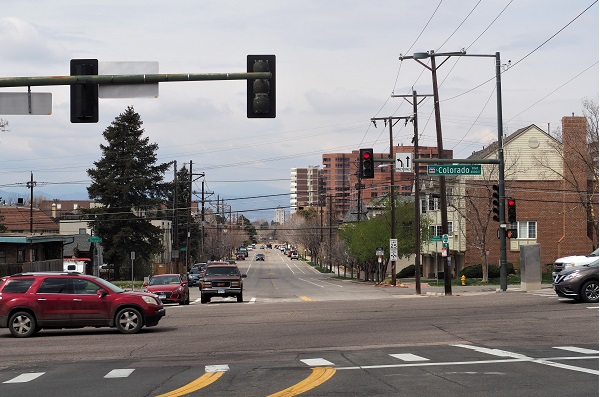 43546