Two gateways into the Cherry Creek neighborhood from the east have changed hands.
An investor group formed and led by McKinnon & Associates paid $5.55 million last week for the northwest and southwest corner of Colorado Boulevard and Bayaud Avenue, as well as the northwest and southwest corner of Colorado Boulevard and 1st Avenue, according to county records.
The sites were marketed as a redevelopment opportunity. Cushman & Wakefield brokers Stew Mosko and Trevor Brown represented the seller, Handler Family Partnership I LLLP, which had owned the property for decades.
"My seller required that all four properties be purchased at once," Mosko said.
Mosko said the northwest corner of Colorado and Bayaud — technically 55 and 65 S. Colorado Blvd. — was the "plum" site, because at 0.38 acres it was the largest of the lots. One of the buildings currently on the site was for years home to Peepers Optical, Mosko said, but in recent years the property has been "a sort of back-office storage for the seller."
The buyer also picked up a five-unit apartment building across the street on the 0.22-acre 101 S. Colorado Blvd. lot. Two blocks north, meanwhile, the lots the buyer picked up at 1st Avenue — 0.24 acres north of the road, and 0.21 acres south of it — are undeveloped.
No redevelopment plans have been submitted to the city concerning the sites.
McKinnon & Associates, which is led by Doug McKinnon, said in a statement that is "has engaged Tryba Architects and The Pachner Company to begin work with the community, RNO leadership and stakeholder groups to create appropriate planning and development concepts for these critical entryways into the Cherry Creek community."
Scott Crosbie with Crosbie Real Estate Group represented the buyer. Solera National Bank provided financing for the deal.
Mosko said the lots were on the market for about a month before they went under contract.
"It is an iconic corner, and I think it will accommodate a landmark, iconic building," he said of Colorado and Bayaud.
McKinnon and partners own the office building at 155 N. Cook St. in Cherry Creek, according to BusinessDen archives.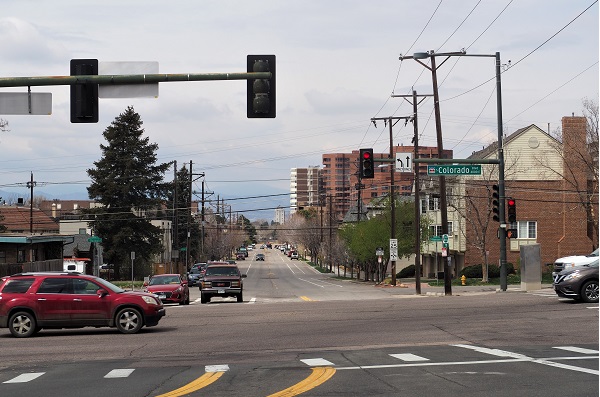 33770