Instead of a celebration, visitors to the opening of Nurture, Denver's new "wellness marketplace" on Federal Boulevard, were greeted with a full health screening at the entrance last week.
To enter Nurture, guests are required to get their temperature taken, answer a health survey, which includes questions about one's range of interaction with COVID-19 patients or testing facilities, and wear a mask in the building at all times.
Nurture, located at 2949 Federal Blvd. in a former two-story school, opened on May 18. The 22,000-square-foot marketplace features 70 office and retail tenants in the beauty, health and fitness sectors.
Service providers are located on the second level of the building, and retail shops surround the in-house cafe's lounge. There are 35 units on the second level, and some individual providers share the same space. Larger tenants, such as Dew Salon, and Glitzy Lashes and Holistic Skin Spa, have a permanent establishment in the center.
Co-founders Peter Strauss, Nikki Dority and Kelly Campbell — who purchased the building for $6.1 million in late 2018 — originally planned to open Nurture on March 23, the same day Denver Mayor Michael Hancock issued an order telling everyone to stay indoors except for essential needs.
"We had a grand opening event that was scheduled for 300-plus people," Strauss said. "People always say the timing couldn't have been worse, but actually it could have been. If we had gone through with the grand opening, made that investment, gotten the plane up to cruising altitude and then have that crash a few weeks later, it would have been a mess."
"I am grateful we were patient. When the time is right, Nurture will be ready to celebrate."
Around 60 of Nurture's 70 tenants have opened, the founders said. And on opening day, they said 50 to 60 clients came for acupuncture and hair appointments, therapy sessions and consultations with medical specialists.
"We didn't have any expectations," Strauss said. "I think we're really happy with the providers' reactions; we got to see them psyched to be here and do their craft, and we got to see clients come in and have the reaction on their faces that we've always wanted, which is like 'whoa.' "
Thorin Decatur, barber and owner of Alpine Grooming & Supply, said he saw six or seven clients on his first day back. He added it was the perfect way to slowly ramp things up again, and he was excited to see his clients, mask and all.
Rachael Rose, licensed acupuncturist and owner of Full Circle Wellness, said she is allowed to see up to 15 patients a day, but saw only eight on opening day. She said she was pleasantly surprised with the turnout and will continue to increase operations as guidelines permit.
Prepping the cafe
Nurture opened its in-house cafe called Nest for takeout orders on May 12 in order to give its employees some time to prepare the kitchen and get in the swing of things. Menu items include baked goods, salads and smoothies, as well as chicken and vegetable broth.
Retail tenants, such as Clementine Collective, and fitness studios, such as cycling studio Rhythm Revolution, remain closed with plans to open in June, depending on the city's restrictions.
"This time has given people the ability to reflect on what self-care means to them and we really provide that container," Campbell said. "Regardless of how you define self-care, we tried our best to provide that, whether you define it as a nourishing bite of food, seeing an acupuncturist or your barber, or visiting a financial wellness advisor."
The center is open from 9 a.m. to 5 p.m. Monday through Saturday, with plans to expand hours to fit individual providers' hours of operations. The founders said they will continue to require a full health screening at the entrance as long as it makes both the Nurture providers and guests feel comfortable and safe.
"I think Nurture is going to be even more needed in some ways," Dority said. "People may be seeing clients in a different way, but all of the providers' clients want and even need to see them in some cases. If it's a wellness situation, you know people are in pain and have been waiting for months, and so they're excited. As for beauty, there's a line out the door for hair."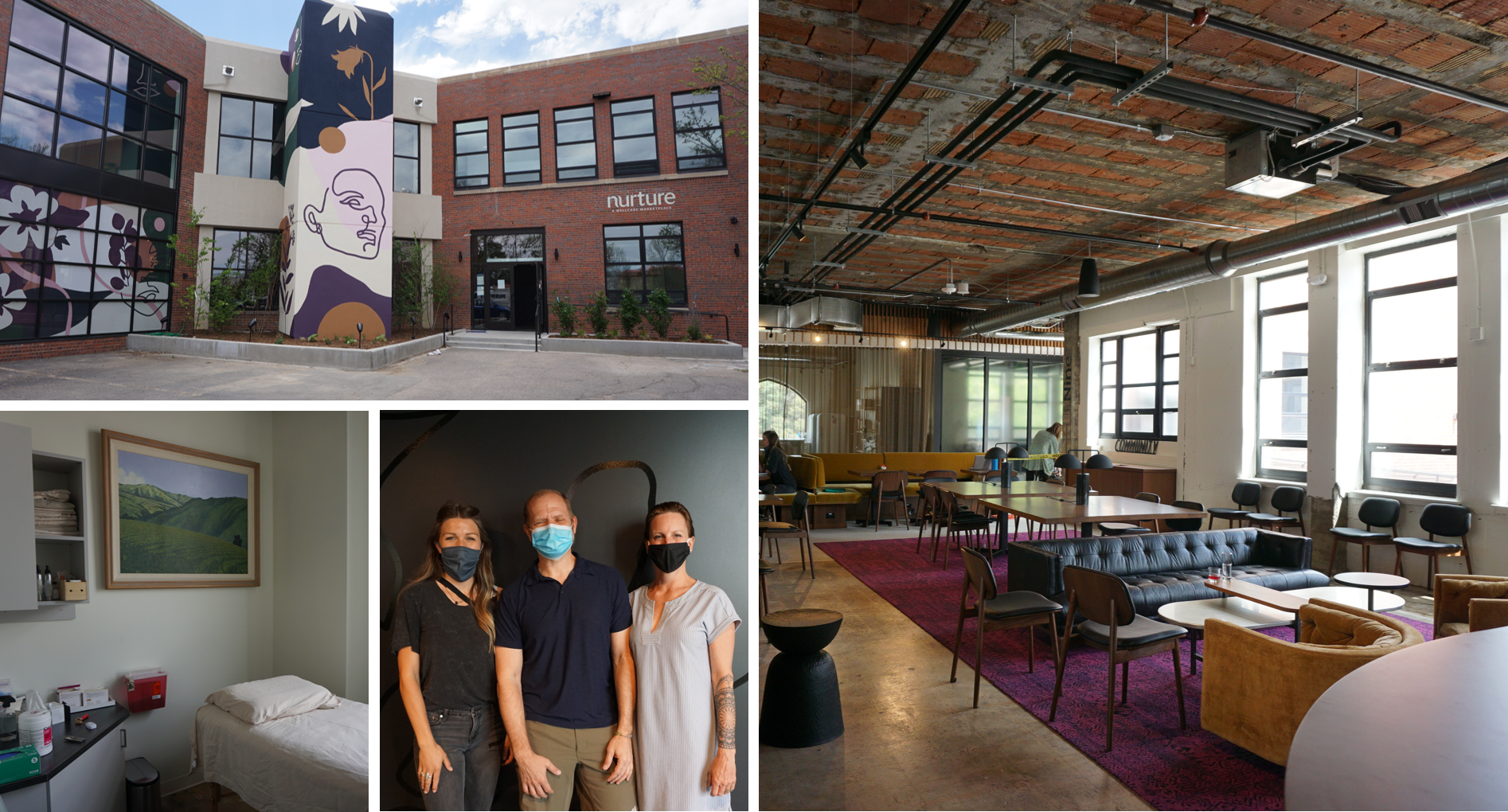 41797