Alan Fine opened his bike shop in time for the 1970s bicycle boom, when 10-speeds were the hot commodity.
He served customers during the '80s, when mountain bikes became a thing. He sold road bikes in the early 2000s, when everyone wanted to be Lance Armstrong. He made it through the recession, only to find himself facing the rise of e-commerce.
Now, the 71-year-old owner of Turin Bicycles — founded in 1971, and at its current location since 1991 — is "ready to retire." On Tuesday, he carried out the first of two steps to make that happen.
"I was anxious to preserve the legacy of the store," Fine told a reporter Tuesday afternoon. "It's the oldest bike shop in Denver, and I take some pride in that."
On Tuesday, Fine sold the building the store occupies at 700 Lincoln St. for $2.6 million to Denver-based St. Charles Town Co. He expects to sell the business itself to two longtime managers, Mike Stejskal and Dave Wileden, this spring.
The deal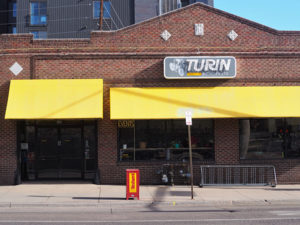 Fine said he bought the building, which dates to 1930, for $435,000 in 1990, when he'd already been running Turin Bicycles in Denver for almost two decades.

Fine said he sold the real estate separately from the business because Stejskal and Wileden, who have each worked on and off at the store for about two decades, didn't have the resources to buy both.

The 8,954-square-foot building on a 0.29-acre lot was marketed by NAI Shames Makovsky brokers Jake Malman and Evan Makovsky. A brochure available on LoopNet shows the site was listed for $3 million and marketed as a prime redevelopment site.

Fine said he received some interest from developers, but they were mostly interested in the site if they could acquire adjacent parcels. The adjacent property owner, however, wasn't interested in selling.

Charlie Woolley, president of St. Charles Town Co., purchased the building through a 1031 exchange after selling a four-story office building in LoDo. He was unrepresented in the deal, although he said several brokers, including Malman and Darrin Revious, of Pinnacle Real Estate Advisors, alerted him to the opportunity.

Woolley said his firm "loves old buildings, loves urban infill, loves legacy tenants."

The bike shop has signed a two-year lease with Woolley, which could be extended if the soon-to-be new owners are interested.

"I think we're all in this same boat of, next six months, let's see how things go," Woolley said.

The store

Fine, who also co-owns a bicycle shop in Chicago, said the Denver store has "been up and down for sure," including some years in the red.

"It's been really tight the last couple years," he said.

Most recently, the challenge has been the competition from online retailers. Fine said customers have come in to try on shoes and then openly said they just wanted to know their size so they could order online. Fine said he's worked the floor less in recent years because of that.

"I'm old school," Fine said. "I come from a time where that didn't exist."

Stejskal and Wileden, meanwhile, said they just see situations like that as reality. The service side of the business isn't going anywhere, although they are trying to make it more efficient. They also think the retail side of the business can be seen as a service, as a "collection of curated products."

The business doesn't currently sell products through its website, although it does show what bikes the store has and whether they're in stock. Wileden said he and his partner are "trying to find different ways to be in front of the customer when they're looking online."

"Bicycles are still a great tactile experience," Wileden said.

"The sky's the limit as far as we're concerned," Stejskal said.


39418