The new development firm planning a 23-story condo project in Arapahoe Square has closed on the land.
Denver-based Ubuntu Partners purchased 838 Park Avenue West and 2250 Champa St. on Friday for $5.53 million, according to Newmark Knight Frank, which represented the sellers.
The two parcels add up to 28,489 square feet, or 0.65 acres, making the deal worth $194 a square foot.
The site was sold by two separate entities, who collectively paid $2.71 million for the site in 2015 and 2016, according to public records.
Rachel Colorosa of Keller Williams Realty Downtown represented the buyer. Newmark Knight Frank's Chris Cowan and Bryon Stevenson represented the sellers.
Buyer Ubuntu Partners, which takes its name from an African philosophy, is a new development firm formed by Keller Williams agent Karina Christensen and Northstar Commercial Partners co-founder Patricia Watson.
The company has proposed a project called "Evolve Towers" that would have 314 condos. Plans call for a five-story podium, consisting of ground-floor retail space topped with four levels of parking.
The residential units would be in two narrow towers, which would extend an additional 18 stories above the podium. The goal is for 80 percent of the units in the building to list for no more than $565,000.
Christensen told BusinessDen Friday that Ubuntu hopes to break ground toward the end of next year.
Broker Stevenson said the listing received "a ton of interest" when it hit the market, and parties continued to reach out even after Ubuntu went under contract on the site. He said Ubuntu was the only party that wanted to build condos; others were interested in apartments or hospitality projects.
"It'll be a different product type for the neighborhood," Stevenson said.
Evolve Towers is one of several proposed projects that would bring a new level of scale to Arapahoe Square, an area northeast of downtown that still contains a sea of parking lots.
Chicago-based developer Akara Partners has proposed a 22-story apartment project called Kenect Denver in the 2100 block of Lawrence St. The company paid $5.5 million, and $194 a square foot — figures that match Ubuntu's buy — for the site in January.
New York-based Property Markets Group, meanwhile, has proposed a 21-story apartment project in the 2100 block of Arapahoe St. It paid $9.9 million over several deals for the 0.58-acre site, the last of which closed in April.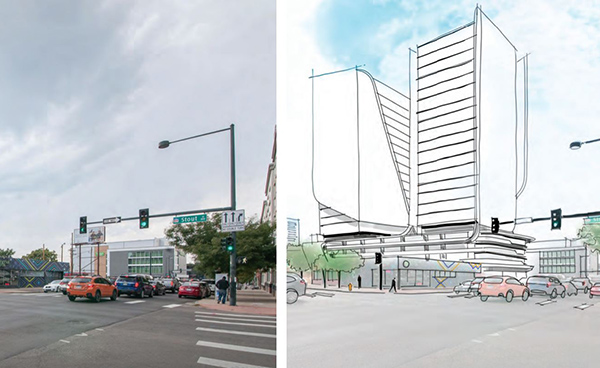 38998