Sunnyside hasn't seen scale like this before.
At the neighborhood's eastern edge, along the railroad tracks, single-family homes have historically given way to small industrial tenants. But now, there's a construction site that spans an entire block.
Dubbed Zia Sunnyside, the two-building project ranges from between six and eight stories, and is set to include a mix of condos and apartments, some of which are income-restricted.
Tucked away from major roads, it might seem like an unusual spot for density. But the project in the 4100 block of Inca Street wraps around a pedestrian bridge that crosses the adjacent railroad tracks, which takes you to the 41st and Fox commuter rail station.
The two-building project, being developed by Golden-based Confluence Cos., is slated to have 314 apartments to the south and east, and 120 condos to the north and west.
Sixty-six apartments, about 20 percent, will be income-restricted to those earning up to 80 percent of the area median income. And 25 condos will be reserved for those making between 80 and 95 percent of the area median income.
There also will be about 8,500 square feet of retail space by the pedestrian bridge. Confluence CEO Tim Walsh told BusinessDen this week that The River Yoga, which currently operates in the Golden Triangle and Five Points, has leased 4,000 square feet.
Here are photos taken last week (click for a larger view), as well as another rendering and a site map.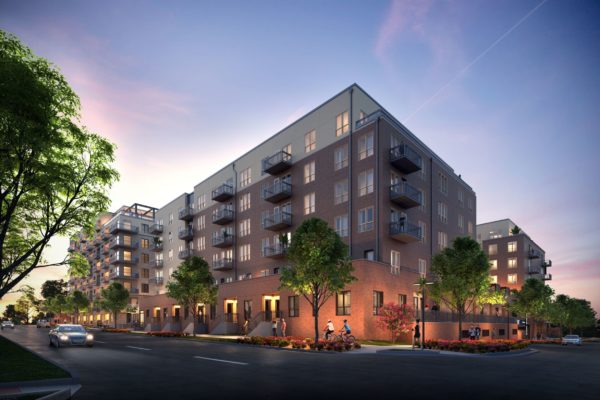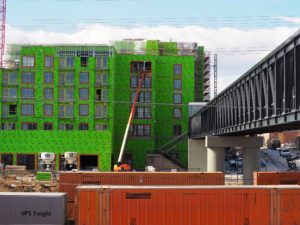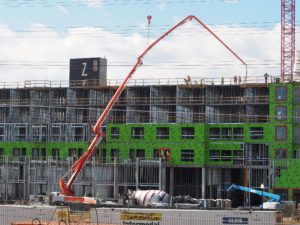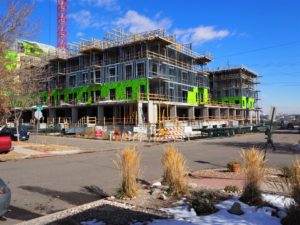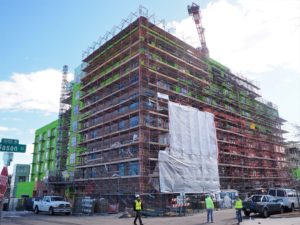 Developer: Confluence Cos.

Groundbreaking: September 2018

Expected completion: Spring/summer 2020

Architect: Craine Architecture

General contractor: Confluence Builders

Elsewhere in town: Confluence's other projects include apartment complexes The Lydian at 2560 Welton St. in Five Points and Union West at 35 Van Gordon St. in Lakewood.

BusinessDen's Project Snapshot feature provides a visual update on notable developments in the Denver area. We last checked in on McGregor Square.

38824