The Watering Bowl may need to mark its territory.
The combination dog park, bar and restaurant in Washington Virginia Vale is poised to get competition from Mutts Canine Cantina, a Dallas-based chain preparing to launch in Denver.
Local real estate broker Felice Halliday has signed a three-unit franchise deal with Mutts and wants to open the first one by mid-2020. But first, she needs to sniff out some real estate.
"Rather than just using a backyard space behind a restaurant, these will have 1 to 2 acres dedicated to this," Halliday said. "Probably just one in central Denver."
This will be the chain's first location outside of Texas, where Mutts operates dog bars in Dallas and Fort Worth. Each location includes a patio area where food is served and leashes are required, and a larger dog park, where dogs can be off-leash.
"I'd love to be in RiNo, but I don't think that's realistic," Halliday said. "I really like this area off South Broadway. There's a ton of families in the area. I think it might be the ticket."
She said she'd be open to either rent the space or purchase the land with the help of some investors.
Halliday, a dog owner and a broker for the Denver branch of SRS Real Estate Partners, became a fan of Mutts Canine Cantina when she lived in Dallas.
"I got to know the (chain's) owners, and I told them to call me whenever they start franchising this thing, because Denver's dying for it," she said. "They just started franchising a year ago."
Halliday said the chain's years of trial and error has ironed out the kinks in the concept. For example, instead of using AstroTurf for the dog area, Mutts Canine Cantina uses mulch, which doesn't absorb smells and can be easily irrigated.
"And (customers) can relax a little more, because we have 'bark rangers' on staff, which I think is the coolest thing about the model," she said.
Rangers will carry poop bags and air horns in case of aggression.
Unlike The Watering Bowl, which is free to enter, Mutts Canine Cantina operates on a membership model, which Halliday said will cost around $20 a month. Dog owners also can get a day pass for about half that price, or purchase an annual pass.
The company's website said that nonmembers who don't bring dogs can eat at the restaurant without paying for a day pass.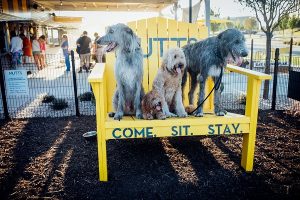 Mutts' Denver locations will differ slightly from the Texas locations by including an extended awning, flaps to partially enclose the space and heaters to keep them warm in the winter.

The chain was founded in 2013 and also has locations in development in Austin and Allen, Texas.

38548