Tyler Stuart thought he was being pranked when he got a call from "Shark Tank" about six months ago.
The caller told Stuart that the ABC reality show had come across the Instagram page of Stuart's Denver-based startup Golfkicks, which had begun shipping product just three months prior. Golfkicks sells spikes that can be screwed into almost any shoes, making them suitable for use on the golf course.
Stuart and co-founder John Krosky flew to Los Angeles for filming in July. On Sunday, 2.5 million viewers watched them walk away with a $300,000 investment from Mark Cuban.
"We really didn't think Mark would do anything," Stuart told BusinessDen. "We watched a bunch of old golf-related Shark Tank episodes … and there's an episode where he says he's been a member of the Dallas Country Club for 10 years and hasn't been there once, so we didn't think he'd be the guy."
On Shark Tank, which shows entrepreneurs pitching their products to a panel of five investors or "sharks," Stuart and Krosky emphasized that Golfkicks had brought in more than $120,000 in revenue in three months of business. They said they expected to reach $1 million by year-end.
"We'll probably do even better than that now with the national exposure," Stuart said Monday, adding sales already had risen since the episode aired.
Stuart and Krosky asked the sharks for a $300,000 investment in exchange for an 8 percent stake in the business. Three of the sharks declined to make an offer.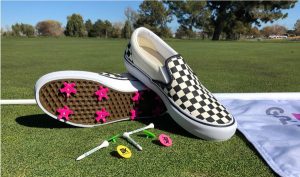 Shark Lori Greiner, who said she was a golfer, countered with an offer to loan the business $300,000 at 8 percent interest, in addition to royalties of $2 per unit sold until the debt is repaid, all in exchange for 5 percent of the company.

Cuban then offered Stuart and Krosky $300,000 in exchange for 15 percent of the company. The pair made the deal when Cuban agreed to go down to 13 percent.

Golfkicks is gearing up to release the third version of its golf spikes, which use metal instead of plastic, allowing for easier attachment. The spikes are selling online for $32 and will begin shipping in November, Stuart said.

Patent pending

The product is available on its website and on Amazon, where the startup launched its products just last week. Stuart said Golfkicks also has a patent pending.

Prior to the show, Golfkicks had accepted investments only from friends and family, Stuart said.

Cuban said on the show that he thinks the business would be a "home run" in the kids' shoes sector, citing how quickly children grow out of expensive sports cleats.

Stuart said Monday that Golfkicks may release a kids' set, which would cost about half as much as an adult set. The kids' version would include fewer spikes to account for the difference in shoe size.

Stuart and Krosky, along with co-founder Matt Mockus, launched a Golfkicks Kickstarter in May 2018, which raised $15,000. The company began shipping products in January.

"We've averaged $40,000 a month in sales (since January)," Stuart said.

The founders are still the company's only employees. Golfkicks manufactures its products in China and hired Denver logistics company Next Level Resource Partners, which warehouses and ships the products.

Going forward, Stuart said the startup will try to get into other sports.

"We want to do a simple, studded cleat for sports like soccer, ultimate frisbee, football, baseball, or whatever," he said. "It would probably be a different brand than Golfkicks."

He thinks those products could be rolled out early next year.

38520