Tyler Stuart kept swinging and missing when it came to ordering golf shoes he actually liked.
"When I put them on, they'd just be super dorky or not comfortable," he said.
So he's making golf spikes that screw into sneakers to give them the necessary grip on the golf course. He and friends John Krosky and Matt Mockus launched Golfkicks on Kickstarter in May and sold $15,000 worth of product in order to start making the spikes and screws.
"Why can't we turn anything we want into golf shoes?" said Stuart, 44. "It was just going to be a side project, but it's turning into a bigger thing. We have this little cult following of people wearing these when they are doing yard work and mowing their lawn."
Stuart is looking for the right manufacturers for his spikes as well as the screws to attach them to shoe soles. Golfkicks recommends a sole that's at least one-half inch thick so that the screw does not poke through the shoe. For early backers, Golfkicks costs $25 for a set of spikes and screws for one pair of shoes.
This isn't Stuart's first foray into product design. He has a patent pending on Golfkicks, he said, and he also invented the Sushi Roll, a flyfishing fly holder that rolls up for easy storage. Stuart licensed that product to Fishpond, a Denver fishing company.
Stuart grew up in Des Moines, Iowa, and attended CU Boulder to study journalism. In addition to Golfkicks, Stuart also started Handll, a social media tool that displays Twitter and Instagram feeds on websites. He has another startup in the works that supplements Google Maps or other map services with audio and video stories about the sites as viewers are driving past them.
Stuart came up with the product idea about a year ago. Together Stuart, Krosky and Mockus have invested $25,000 into the business.
Stuart works out of the coworking space at Battery 621 at 6th Avenue and Kalamath Street.
"We're just testing the waters with this," Stuart said. "We're not expecting we're going to take over or disrupt the golf shoe industry."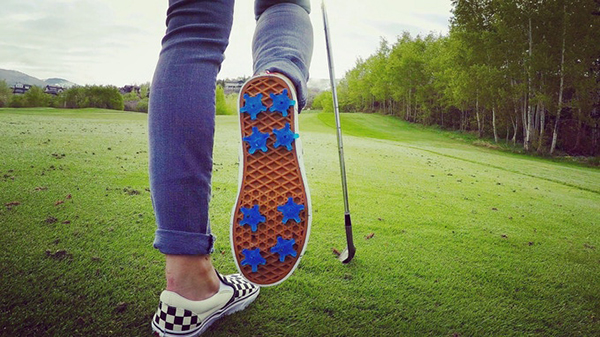 27262