One more cellar is opening in Berkeley.
A new business called Vin Rouge Wine Bar is set to start pouring at 4412 Yates St. early next year, according to co-owner Jenn Feinstein.
"We are opening up an approachably bougie wine bar," Feinstein said. "Everyone wants to feel fancy without feeling out of place. We wanted to have a cool, boutique wine bar, with wines and high-end beers."
She and her husband Jarrett signed a five-year lease on the roughly 700-square-foot space at West 44th Avenue and Yates Street, and plan to begin building out the space next month.
Feinstein, previously director of sales at Sunstone Winery near Santa Barbara, California, said she's using her connections in the wine industry to source Vin Rouge's offerings from smaller wineries in places such as Napa Valley and France.
Vin Rouge will have 30 to 36 wines available, ranging in price from $10 to $30 a glass. The bar also will offer four beers on tap, as well as high-end beers in bottles and cans. Its food menu will offer small plates such as caviar, paninis, cheese and charcuterie.
Feinstein said the space, designed by Unum Collaborative, is meant to be a "homey" place to try new wines.
"Wine can be complicated and intimidating, so we're trying to take that part out," she said. "Instead of a patio, we call it a front porch, and inside, it's a living room. We'll help people learn about wine without 'winesplaining' and making them feel dumb, but also not having to dumb it down."
Vin Rouge means "red wine" in French, Feinstein said. She plans to work with source food offerings locally, and get custom-made cheese boards from a local woodworker.
Once it's open, Vin Rouge likely will welcome customers between noon and midnight, Feinstein said.
The couple recently purchased a home in the Berkeley neighborhood, which drew them to the nearly century-old building.
The wine bar is taking part of a retail building connected to the old Yates Theater at 4979 W. 44th Ave., which co-owners Ken Wolf and Ari Stutz want to turn into an entertainment venue and concert hall called Yates Tavern.
The Denver Post reported that despite some neighborhood opposition, a city hearing officer recommended in June that the business be granted both a liquor and cabaret license.
Excises and Licenses Director Ashley Kilroy has the final decision, the Post reported, though she has no deadline by which to do so.
Wolf and Stutz, acting as 4979 W 44th Ave LLC, bought both the vacant theater and the retail building in 2016 for $2.1 million, records show. The pair completed renovations on the retail building about a year ago.
Other retail tenants include Cedar Hair Studio, Amethyst Coffee, Ohana Yoga and Berkeley Park Sushi Co.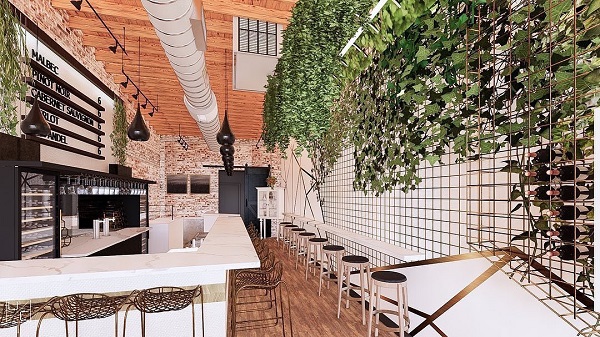 37439