One end of the Highland Bridge for pedestrians over Interstate 25 is getting a $1.7 million makeover.
Seattle-based Unico Properties announced Monday that the company has broken ground on improvements for the area at the base of the bridge along Platte Street, between two buildings the company owns.
Construction should wrap up this fall to reveal an "urban park" with trees, shade, seating and free Wi-Fi, the company said.
"We thought there was something missing on this concrete plaza," Austin Kane, Unico vice president and regional director, said Monday. "We decided that we had an opportunity to create a space in Denver for people to not only pass through, but stop and work or socialize."
Platte Street Plaza lies between two buildings partially owned by Unico, at 1553 Platte St. and 1601 Platte St. (While the buildings and others along the street were part of a portfolio sale by Unico last year, the company said it maintained an ownership stake following the sale, and it still manages the properties.)
Unico worked with the city on the plaza improvements because the property is a public right-of-way, meaning an area owned by the city for transportation and utility uses. Currently, the site has no seating, minimal exterior lighting and little greenery.
"We saw those as shortcomings of the plaza and aimed to solve all those needs," he said. "We're big believers in adding to the urban canopy, so we're going to add trees and lots of greenery in hopes of reducing the heat island effect that currently exists today."
Kane said Unico is covering the $1.7 million cost.
"We decided that it was worth it for us to create that space, to put our own money into the public right-of-way in order to create something that hadn't been there before," Kane said. "Because it is a public right-of-way, we basically prove to the city that what we're doing is going to be attractive to the cityscape and not something that was going to take away from it."
Walkways will remain available throughout construction. Landscape architect Dig Studio is behind the design. Swinerton Construction is the general contractor.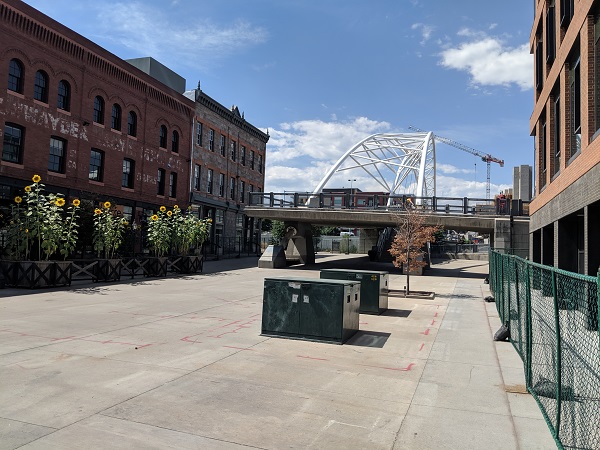 37158