The granddaughter of a cheese industry magnate put some cheddar into a Cheesman Park condo.
Mary Leprino, whose uncle runs Denver-based Leprino Foods, purchased a full-floor condo unit overlooking the park at 1510 E. 10th Ave. last month for $2.35 million, records show.
Leprino Foods is the world's top producer of mozzarella cheese, selling more than 1 billion pounds annually, with $3.2 billion in revenue, according to Forbes.
Tax documents show that Mary Leprino is vice president of The Mike Leprino Family Foundation, a philanthropic organization.
The four-bed, four-bath condo was sold by Bjorn K. Borgen, who purchased it for $1.9 million in August 2006, according to public records. Borgen was president and majority owner of the investment firm Founders Asset Management Inc. for 23 years, until he sold it in 1998 for $275 million. He then formed the Borgen Investment Group.
In 1999, Borgen — along with Broncos legend John Elway, team owner Pat Bowlen and ski resort tycoon George Gillett Jr. — almost acquired the Nuggets, Avalanche and the Pepsi Center. The group bid $438 million for the assets, but fell $23 million short of the winning bid.
The following summer, Borgen made headlines again when he settled civil fraud charges filed by the SEC in response to allegations that he defrauded clients and lied to the commission during his time leading Founders Asset Management, The Denver Post reported at the time. Borgen agreed to pay $655,000 as part of the settlement.
Address: 1510 East 10th Ave., Unit 13
Sale price: $2.35 million
Stats: The four-bed, four-bath condo is 4,850 square feet, and takes up the entire 13th floor. It's accessible by two keyed elevators.
The finer things: Large windows allow for panoramic views of the Rocky Mountains and Denver's skyline.
The condo's west wing is designed for "grand entertaining," the listing said, while its east wing is more fitting for family gatherings. The unit features a large, south-facing balcony and a spacious home study, both of which overlook the city.
The unit's four bathrooms all include radiant floor heating. Three parking spaces came with the purchase of the home.
The 1970s-era condo tower, dubbed Cheesman Gardens, sits along the western boundary of Cheesman Park and is just south of the Humboldt Street Historic District. The listing for the unit said that Cheesman Gardens was one of the city's first high-rise buildings.
Seller: Bjorn K. Borgen, who purchased the unit in 2006 for $1.9 million, records show.
Buyer: Mary Leprino, per public records.
Listing agent: Darrell G. Hamilton of Kentwood Real Estate Cherry Creek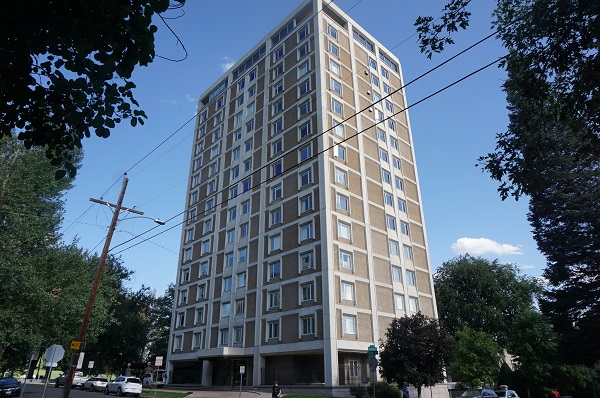 37028