Westwood is about to get a little sweeter.
Latin American-inspired chocolate company Cultura Craft Chocolate is set to open a dual retail storefront and production facility in the southwest Denver neighborhood this fall.
Founder and owner Damaris Ronkanen signed a seven-year lease for 1,200 square feet space at 3738 Morrison Road in April. The business will move its production facility from its current spot at the "makers kitchen" at Montclair's Art Gym, an incubator for small-to-midsized culinary businesses, by the fall.
Ronkanen said the move was inspired partly by a desire to hone in on the educational side of chocolate-making.
"Our current space is great, but it's not somewhere we could bring people in to see it," she said. "Our new space is an open concept where people can see us making our chocolate. We want people to be able to come in and learn about our process, and also be able to buy some chocolate."
The brand's Westwood locale will take up the southwest portion of a building owned by the nonprofit Re:Vision, which aims to "rethink community development" in economically marginalized communities such as Westwood, according to its website.
The 12-year-old nonprofit purchased the property at 3738 Morrison Road — a former junkyard — in 2014, with the help of a $1.2 million loan from Denver's Office of Economic Development. A grocery store, an arts and culture center, and a community classroom also are planned for the site.
Re:Vision reached out to Ronkanen last fall about moving her business to Morrison Road.
"I like that the neighborhood is working really hard to preserve the cultural identity that's been lost in other parts of Denver," Ronkanen said. "I wanted to be in a neighborhood that wasn't fully developed."
The former pastry chef has been making chocolate since 2012, driven by "the history and cultures of the communities where cacao originated."
"My mom's from Mexico, and chocolate is a really big part of Mexican culture," she said. "And there's a lot of ethical issues behind the chocolate industry. It became something I wanted to learn more about."
Ronkanen and a friend began a small-scale chocolate business in 2013, but her friend eventually left to focus on her full-time job. Around the same time, Ronkanen decided to quit her full-time job and focus on chocolate.
So in 2016, she moved her production space into the Art Gym at 1460 Leyden St. and rebranded her business as Cultura Craft Chocolate.
Nationwide reach
She now collaborates with a handful of local businesses and her chocolate is on the shelves of almost 100 retailers nationwide. She said she mainly works with small, independent retailers such as specialty food stores, boutiques and coffee shops.
Ronkanen remains Cultura's only full-time employee, though she's brought on two part-time staffers to help with production. She also hires more help around the holidays and when she attends farmer's markets.
Cultura markets itself as a "bean-to-bar" chocolate-making company, which means it makes its chocolate starting with raw cacao beans, Ronkanen said.
"Everything that happens after the beans leave the farm," she said.
She primarily focuses on Mexican-inspired products, she said, but also makes single-origin bars with beans sourced from other Latin American countries such as Haiti, Belize and Guatemala. The brand offers chocolate bars, drinking chocolate, truffles, caramels and cacao brew coffee.
Once the new facility is open, Ronkanen plans to host events with the community, such as chocolate tastings or chocolate-making classes.
"There's so much people don't know about chocolate, and so many cultural ties to chocolate to share with people," she said. "The main thing I want to do is create a space that integrates itself into the local community — a good educational space."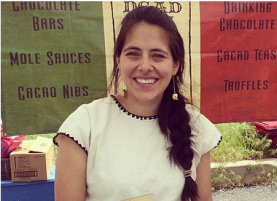 35302