Nothing is certain but death and taxes.
Ten days after Interstate Kitchen & Bar served its last customer, the State of Colorado seized the property in the Arts District on Santa Fe, citing unpaid taxes of nearly $60,000.
Paperwork visible on the door Monday and dated May 29 said the property is now in possession of the State of Colorado for nonpayment of sales and wage withholding taxes. The warrant for distraint named Tattered Ascot LLP, doing business as Interstate Kitchen & Bar, as the entity in arrears.
The business owes a total of $58,884.28 to the state, which includes interest and penalty fees, the paperwork shows.
Interstate owner Aaron Lobato told BusinessDen last month that the decision to close the 10-year-old restaurant was due to "costs of labor going up with the minimum wage increase." Lobato did not respond to requests for comment Monday.
Additional paperwork provided by a spokesman for Colorado's Department of Revenue show that for 12 of the last 35 months, the restaurant failed to pay state payroll taxes, totaling more than $45,000. The months of nonpayment began in June 2016 and were largely nonconsecutive. January 2019 is listed as the most recent period of nonpayment for payroll taxes.
September of last year began another period of nonpayment — this time for sales taxes. Paperwork shows that the business owes about $13,800 for sales taxes accrued between September and December 2018.
Department of Revenue spokesman Daniel Carr said in an email that a business has 10 days from the date of its seizure to "pay the total liability in full."
"After 10 days, the Department of Revenue continues down the path towards public auction," Carr said.
"The Department of Revenue always makes multiple attempts to have the business comply with their tax obligations prior to seizure."
The restaurant first opened its doors in the arts district at 1001 Santa Fe Drive in 2009; it closed May 19.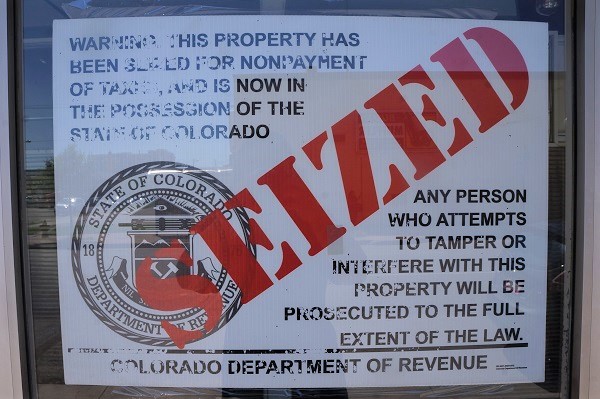 35226