The building that Whole Foods calls home in downtown Denver has changed hands — and residents soon may be encountering more short-term visitors on their floor.
Denver-based Daydream Apartments, a company founded last year that calls itself "an entirely new concept for the apartment market," said Monday that it has purchased the Union Denver complex at 1770 Chestnut Place.
The company did not disclose the sales price, and it was not included in a deed recorded Monday. But public records do show that Deutsche Bank provided the buyer with a $200 million loan.
The Union Denver complex, which takes up a full city block and originally was going to be called Pivot Denver, has 579 residential units in three towers that top out at 13 stories. The complex opened in stages between May 2017 and early 2018.
The ground floor of the complex has approximately 70,000 square feet of retail space. Whole Foods, which opened in November 2017, accounts for the bulk of that. Other tenants include Gyu-Kaku Japanese BBQ.
The building was sold by its developers, Holland Partner Group and North America Sekisui House.
Daydream said Monday that the complex, which it plans to rename Union Denver by daydream, is its first acquisition. The company's website said it was founded in 2018 to "create a new type of urban residential community, one with real opportunities for residents to lower their housing expenses with managed homesharing."
The website said homesharing is similar to "subletting or 'Airbnbing' an apartment while a resident is away."
"Instead of the resident dealing with the hassles of bookings, key exchanges and cleanings, daydream apartments professionally manages the hosting on residents' behalf," the website reads. "Homesharing is not allowed in most apartment communities and if it happens, it often does so in violation of a resident's lease or city regulations. Daydream's program is designed to be in compliance with city requirements and has safeguards in place to make it more beneficial for all."
Residents do not have to participate in the "homesharing" program, the website said. Only units leased to residents, not vacant units, will be rented out on a short-term basis.
"We intend to make similar purchases in other dynamic cities where daydream apartments can add value to residents," Daydream founder and CEO Daniel Cohen said in a statement.
Daydream's model bears some similarities to that of startup Pillow, which as of late 2017 was working with residents of a Cap Hill apartment complex who wanted to list their unit on sites such as Airbnb. Pillow, however, didn't buy the building, but rather struck a deal with its owner. The arrangement satisfied the Denver law stating that only "primary residences" can be rented out.
Austin,Texas-based startup The Guild and San Francisco-based startup Sonder are looking to take another approach to bringing short-term visitors into apartment complexes, essentially operating the building or block of units as a hotel.
On Monday, Union Denver's website listed the cheapest available unit — a 430-square-foot studio — for $1,635 a month. The most expensive available unit, at $5,600 a month, was a 1,637-square-foot two-bedroom unit on the 13th floor.
Among the amenities touted on Union Denver's website is the fact that a private elevator allows residents to access Whole Foods without leaving the building.
Editor's Note: This story was updated after initial publication to note that the buyer received a $200 million loan from Deutsche Bank.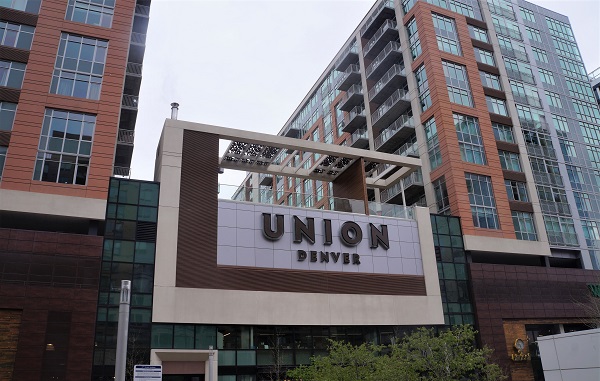 34141