You can check in anytime you like, connect to WiFi with the press of a button and relax in a living room all to yourself.
After securing the necessary license this month, Sonder, a San Francisco-based hospitality startup, has opened its first hotel-Airbnb hybrid in Denver.
The startup has leased the entire building at 630 E. 16th Ave. in Uptown, and is calling it The Essex. The three-story building, built in 1908, used to be a hostel but was closed for fire code violations in 2016. Denver-based developer GM Development bought it last year for $2.1 million and began renovations.
"The opportunity to bring a tech-driven model of hospitality to this old, historical part of the city and partner with a developer to bring old and new together, that was so attractive to us," said Sonder spokesman Mason Harrison.
It's not the first time Sonder has targeted old buildings to redesign into rentals. In New Orleans, the company is teaming with a developer to renovate a block of units along Canal Street that were damaged by fire; in Chicago, Sonder recently opened in what used to be a boarding school, Harrison said.
Guests booking rooms at The Essex can choose between eight two-bedroom and 11 one-bedroom units. Booking can be done through Sonder's website or hotel booking sites.
Guests can download the Sonder app to request a late checkout, schedule a cleaning or connect to the building's WiFi at the touch of a button. Each unit has laundry, keyless locks and Bluetooth speakers, Harrison said.
Sonder will have an onsite employee to help with check-in and any other concierge services. In addition, there also will be a communal area for breakfasts and other snacks for guests.
"Obviously we're the type of company where we don't have to have someone always there," Harrison said. "Your check-in is never required to be done at a physical desk at a Sonder."
Although Sonder markets itself as a cross between a hotel and an Airbnb, it's more the former in the eyes of the city. Eric Escudero, spokesman for the city's Department of Excise and Licenses, confirmed that Sonder has received a lodging facility license for its spot in Uptown.
That's the same type of license a traditional hotel would get. Airbnb listings, meanwhile, typically require a short-term rental license, and Denver gives those only to individuals renting out a primary residence.
Denver is the 18th market where Sonder – which has 170 employees in Denver – now offers rooms, joining cities like London, Rome and Montreal. Harrison said the average nightly rate across all of Sonder's locations is $129.
Sonder has had a presence in the Denver market; it leased 30,000 square feet of warehouse and office space in Thornton last year for a customer service hub. Since then, the startup also has leased warehouse space at 2488 W. 2nd Ave. in Denver, the former headquarters of survival gear company Survival Frog.
The company has plans to operate more units in Denver, although Harrison declined to discuss specifics, saying the company was waiting on permits and other logistics.
"It would be impossible to speculate how many units we'd have by the end of the year," he said. "We hope it's a lot. We think that Denver obviously has become such a huge hub of hospitality. It was just a question of when, not if, we'd expand there."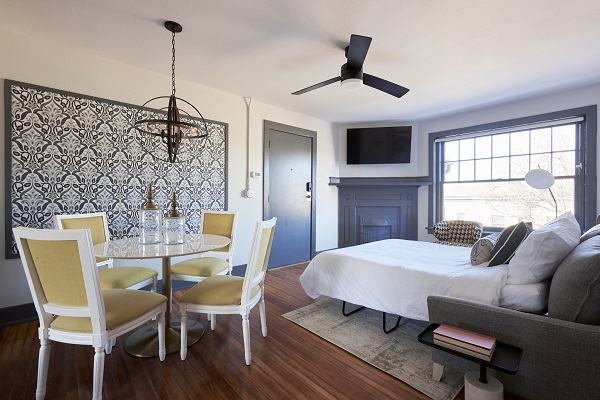 33649