The standard one bedroom at Archer Tower Apartments in Capitol Hill rents for $1,440 a month, unless tenants plan on listing their unit on Airbnb.
Then they get a discount, and get to run a little side-hustle with their landlord's blessing.
The 300-unit building at 901 Sherman St. has been telling prospective tenants on Craigslist to "reduce your rent with Airbnb!!!" Commit to listing your one bedroom on Airbnb for 10 days a year, the ad says, and your monthly rent becomes $1,380. Commit to 60 days, and rent drops to $1,075, a 25 percent cut.
A similar ad can be found for studios.
Representatives for the building, which according to property records is owned by Virtu Mezzo Owner LLC, told BusinessDen the promotion is the result of a partnership with Pillow, a VC-backed San Francisco startup that works with apartment building owners who allow Airbnb.
Tenants in Pillow buildings can sign a lease addendum that authorizes short-term rentals. In return, the landlord has the ability to track and monitor the short-term rental activity, and receives a percentage of the earnings from the Airbnb reservations.
Reached by BusinessDen on Thursday, Pillow CEO Sean Conway said the building is part of pilot program.
In a blog post from September, the company said Archer Tower gets 10 percent of all profit from short-term rentals.
The blog post included a statement from Blake Hayunga, chief operating officer of Archer Tower.
"It helps building owners organize that process and take some control of it, but also participate in the revenue stream," Hayunga wrote.  "That revenue stream is bigger than what we would be able to do on our own trying to organize the process."
The blog post claims Archer Tower "has been able to produce 20% more applications since implementing this amenity, as well as capture premium rents 4-7 percent higher than current market rents."
With Pillow, Archer Tower appears to have found a way to earn more from Airbnb while still complying with the City of Denver's new short-term rental regulations.
Last summer Denver City Council passed a bill that limited short-term rentals to "primary residences," meaning Archer Tower itself can't list its units on Airbnb. With Pillow, tenants are responsible for listing their unit.
Pillow isn't the only entity looking to smooth over the relationship between Airbnb and landlords: Airbnb itself is making an effort. In 2016, the company introduced its "Friendly Buildings Program," which also lets property owners get a cut of Airbnb earnings on their property.
Most other Craigslist rental ads that mention Airbnb say it's prohibited. The San Francisco-based online marketplace has had a testy relationship with landlords, who tend to be suspicious of the service, which brings people they don't know into their units for short-term stays.
Earlier this year, Denver-based Apartment Investment and Management Co., one of the country's largest owners and operators of apartments, sued Airbnb, saying the company helped its tenants violate their leases.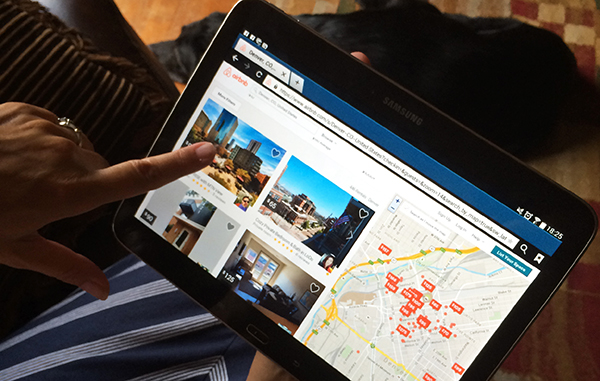 20803